War. It never stops. But we know to respect our soldiers, for fighting against the evil.
V5 Is going underway people!
#LAUNCH DATE: SATURDAY, NOVEMBER 26th 2016
Pre-Show: November 19th 2016, 4pm GMT
Tournament: November 26th 2016, 3pm GMT
DESCRIPTION: Tournament is consisted of 26 players, each player gets a randomly assigned character for the entire event.
Signup page: http://challonge.com/tournaments/signup/cgP3hoOBzL
Challonge bracket: www.challonge.com/KIRNDMCHARTOUR_V5
Twitch Channel:
Discord Server: https://discord.gg/Z4SFrC8
Twitter: www.twitter.com/KIRNDMCHARTOUR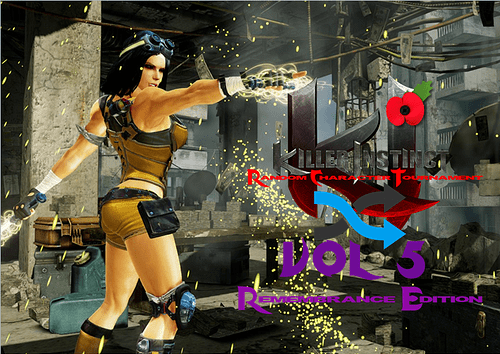 Standing character assignment:
Jago-- PV LewisTheWizard
Sabrewulf-- [HAIS] blandestjohn
Glacius-- TG CoopStar
Thunder-- TDB ShinDarkShadow
Sadira-- FeverAyeAye
Orchid–
Spinal-- IND Ixion
Fulgore-- Vlad Kravich
Shadow Jago-- Sasuke99I
TJ Combo-- Reid_The_Player
Maya-- oTigerSpirit
Kan-Ra-- MBA CYMRU
Riptor-- PV Xenoraptor
Omen-- TDB Fang
Aganos-- SC AlbeFreak
Hisako-- KevBones10
Cinder-- PV SlenderCashew50
ARIA-- GIAC | ItzTymeToDul
Kim Wu-- T1AORyanBay
Tusk-- MBA Banemobius
Arbiter-- TDB JdoubleC
Rash–
Mira–
Gargos–
General RAAM-- Galactic Geek
Eyedol-- HerSako
FIGHT ON!