It seems a lot of talk about MK vs IJ. There are things that I don't like about both of those games design-wise that I hope they DO NOT repeat.
This is probably going to sound extremely nit-picky, fair warning. It's basically a "What I don't like about NRS games list" lol.
Mortal Kombat
I hated how there were so many 50/50 overhead/low strings. I get that this is how offense would work since the game has a block button but it was annoying to have to just guess after a restand (■■■■ restands). These overheads/lows shouldn't happen in the middle of strings either. Not at the speed NRS wants them to go.
Oh and this might just be me, but the characters in MK don't really FEEL different for the most part. I'm sure there are characters they play very unique compared to the roster but it feels to me like the game plan for the majority of the cast. Injustice I feel doesn't have this problem because every character has those traits that give them unique moves and properties. Not to mention that they actually do play very differently as a whole.
Injustice
Why are the wakeup moves either safe or you can meter burn it to make it safe? I admit to never really labbing out an optimal way to punish these moves but it just felt wrong to not be able to simply block and punish.
I might as well talk about the gear system while I'm at it since it's essentially gonna be in MK11 too. I don't really mind it and I still feel that it can stay, but I don't think people can keep talking about it as something important. Sure you can take the casuals into account, but the most important people are going to be the ones showcasing the game at a high level and I don't think they'll be allowed to do that with whatever custom moves they made. It's the same thing with Smash, and they didn't even bring them back for Ultimate.
Both
Special-cancelling really needs to be more lenient. You know how some people mention how doing combos is like inputting a code? This is how I actually feel about NRS games with how fast I have to input it.
Also, the control scheme. I tried playing these games on stick multiple times, and clearly these games were not designed with arcade sticks in mind. The problem is that there's too many buttons and two of those buttons have to be organized a certain way just so I can get a Super. I end up having to use a controller that hurts my thumbs when I try to do Specials in a combo.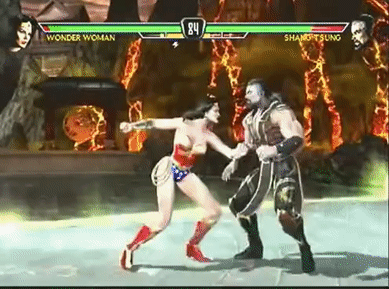 I think you should take another look.
There are also some other things about MK vs DC that I'm glad didn't come back as well.
For starters, I'm glad they didn't keep the throws the way it was. Making throws, of all things, Rock Paper Scissors was not a good idea IMO. Stage transitions are one thing, throws are another. It's nice to see they took some mind game scenario from it though in the form of Clashes.
I'm also happy to see that RAGE was scrapped entirely. Having a comeback mechanic that gave you not only a major power buff, but armor for the whole duration is too much. I wouldn't mind a universal comeback mechanic at this point since most games have one now, but that's going too far.
Ok… I'm done.