Shadow Jago!
Omen!
Kilgore!
Shin Hisako!
I like all of them, but personally Kilgore is my favorite. I have always liked robots/cyborgs, so naturally I was very glad to see another one added to the game.
When I first saw Kilgore, I was hyper exited. A cyborg with dual flaming machine gun arms? How totality radical is that? At the time though, all I saw was that blurry image that was accidentally shown to the public, so my mind raced with what this new character could be about. I was hoping that Kilgore would talk, perhaps in a robotic text to speech voice. But he just makes robot noises like Fulgore.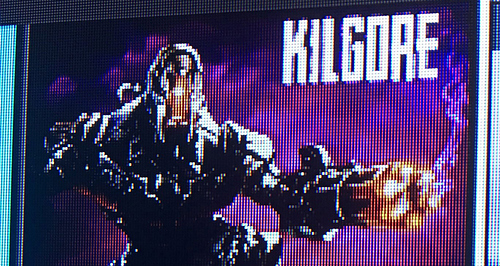 I could tell that this was a remix of Fulgore, like Shadow Jago is to Jago. I already really like Fulgore, so this was good news for me. I had thought of what Kilgore's gameplay style might be like, and I was not very far off. It made it all the more exiting when his moves were revealed. I could tell that this was a character that I could get into.
When he finally came out, he was even better than I thought. I love his overheat mechanic. When Kilgore overheats, his machine guns effectively become flamethrowers. That is so flippin' cool. And his whole playstyle is rather fun to me.
But, my main complaint with Kilgore is that he looks too similar to Fulgore. (Even though I love Fulgore's design.) That is remedied with his accessory set. It makes him barley resemble Fulgore. I personally think that it should have been Kilgore's default look, but since you can pick either, I guess it does not matter very much. Also I like how he contrasts with Fulgore, in their music, taunts, and gameplay style.
So… who is your favorite remix character, and why is that remix character your favorite remix character of the four remix characters that are called remix characters because they are remixes of characters who were remixed into other characters, therefore creating more characters that were made by remixing characters that are not remix characters?