If Khameleon does show up that so far looks like a great roster
with Reptile also likely coming back
I hope they treat him well in the story.
I thinkt he Zattarans get something major.
Also would love to know where I can play the Klassic MK Games. I feel nostalgic.
Give it some time. Its bound to come.
You can purchase MKT via GoG. I did today for 9 dollars. It's on PC and it's amazing.
Are the ways to purchase these games? like with some point cards or something?
GoG is like Steam. I purchased MKT for 9 dollars, but I don't know of any other payment methods. The version that is being used is the OG Windows version with a few tweaks as they added in the missing audio samples and there is 0 load times. Gameplay is very responsive with controller. There are a few glitches, but as I owned both the N64 and PlayStation versions, it made me teary-eyed. Bosses are still awful.





I'm able to buy steam games with a gift card that you buy at a store.
Sense don't trust credit cards for online purchases.
ad now for my Roster ideas
Starting Roster
Liu Kang
Kung Lao
Jax
Sonya
Jhonny Cage
Reptile
Sub-Zero
Scorpion
Kitana
Smoke
Milleena
Kano
NightWolf
Kabal
Baraka
Raiden
Khameleon
Noob Saibot
Sektor
Cyrax
Onaga (Final Boss)
Ashruh
New Character
Kenshi
Ermac
Jade
New Zatterran (doesn't have to be a ninja)
New Character (From a new realm)
New Character (Earthrealm)
New Character (Outworld)
DLC
-Season 1
Nitara
Chameleon
Quan Chi
Fulgore (Killer Instinct)
-Season 2
Havik
Sareena
Rain
Lei-Mei
-Season 3
Tanya
Shao Khan
Tremor
Ash Williams (I'm sure some of you have been wanting for a while.)
What about you folks. Whats your wishlist.
let it be true in the future)) I look forward to it
Honestly think it depends on where they take the story next. If they go with Liu Kang's aftermath ending, then I'd love to see an MK game set in the Great Kung Lao era and given how characters age in other realms, they could EASILY pull this off and have a great roster full of characters from all eras, plus a few obscure characters as well.
For example:
Earthrealm:
Great Kung Lao
Bo Rai Cho
Fujin
Cetrion
Scorpion
Sub Zero
Granted, they'll have to do some time travel hijinks for these latter two characters, but you don't leave your Ken and Ryu out of a game so they'd be there.
Edenia:
King Jerrod
Queen Sindel
Rain
Kitana
Tanya
Outworld:
Onaga Kahn
General Kotal
Shang Tsung
Goro
Khameleon
Nethrealm:
Quan Chi
Moloch
Sareena
Ashrah
Jataaka
Characters unlockable through the story:
Ermac
Mileena
Skarlet
Since these characters have been "created" at various times, there's nothing that says they can't be created in the distant past in this new timeline.
Hidden unlockable characters:
Lord Liu Kang (Earthrealm)
Lord Argus (Edenia)
Lord Shao (Outworld)
Lord Shinnok (Netherealm)
So that's your base roster of 28. From there…
DLC:
Group 1
Raiden
Baraka
Nitara
Guest
Group 2
Reptile
D'vorah
King Gorbak
Guest
Group 3
Nightwolf (gender swapped, a different one from the past)
Kollector
Li Mei
Guest
Group 4
Jade
Reiko
Havik
Guest
For a total of 44 characters. They always seem to top themselves lately in terms of roster size, so I could see this roster being the biggest and the longest supported, so it beats the MK11 roster by two.
Now…
If we're talking the Shang Tsung's Aftermath ending? I think this would be interesting. You're basically looking at two groups. A group that supports Shang Tsung, whether willingly or not, and the basic remnants of what's left from the realms he's conquered. I think this would make for a fun team given how mismatched they'd be in terms of prior allegiances and what.
Boss: Shang Tsung
Sub Boss: Onaga (Shang Tsung's resurrected champion)
Endurance Battle: Raiden & Fujin (soulless slaves under Shang Tsung)
Good:
Earthrealm:
Kung Lao
Takeda
Kai
Kenshi
Sub Zero
Young Scorpion
Kira
Kabal
Johnny Cage
Cassie Cage
Mavado
Outworld:
Erron Black
Skarlet
Reptile
Mileena
Baraka
Netherealm:
Sareena
Moloch
Evil:
Earthrealm:
Dominik (Kano's son)
Tasia
Kobra
Daegon
Outworld:
Onaga
Rain
Reiko
Li Mei
Khameleon
Tanya
Nethrealm:
Jataaka
Drahmin
Hidden Characters:
Raiden (Earthrealm-Evil)
Fujin (Earthrealm-Evil)
Jade (Outworld-Good)
Argus (Netherealm-Evil)
Kung Jin (Earthrealm-Good)
Shang Tsung (Evil)
A base roster with all hidden characters coming out to 36 is a bit much, but I'm also trying to keep in mind that they've been working on this game a lot longer than usual. I tried to keep the other roster more realistic in terms of character number, but who honestly knows.
DLC:
Group 1:
Jax (Earthrealm-Good)
Nitara (Outworld-Good)
Sektor (Earthrealm-Evil)
Guest
Group 2:
Kitana (Outworld-Good)
Kollector (Outworld-Evil)
King Gorbak (Outworld-Evil)
Guest
Group 3:
Ermac (Outworld-Good)
Jacqui (Earthrealm-Good)
Guest
Guest
Group 4:
Human Smoke (Earthrealm-Good)
Havik (Chaosrealm-Neutral)
Guest
Guest
So yeah, a beefier roster at 52, but still not overly outside of the realm of possibility. I believe they've taken at least an extra year at this point and they still haven't even announced anything yet. Granted, COVID almost assuredly played a role in delaying things, but again, anything's possible. We could see a normal sized roster that caps out slightly above what MK11 did, or one that goes a bit further.
New possible AND potential guest characters for Mortal Kombat 12:
Doom Slayer
Beavis and Butt-Head
Very interesting, indeed. I can totally see Omni Man and/or Homelander in the next MK.
what caught my attention is that Reptile is likley to appear in MK12.
I honestly think Reptile's a lock. He falls in to that group of high tier classics that may miss a game here and there, but never two in a row. I'd be absolutely floored if he missed out on MK12.
Same, because Reptile is a fan favorite, and even if people dont like some of his newer outfits, he's still an important character to the fans.
Maybe they will throw him a bone and make him a badass like they did Baraka.
Wouldn't mind Tremor making a possible return, especially if they gave him an attire that was based more on his history as a Black Dragon criminal.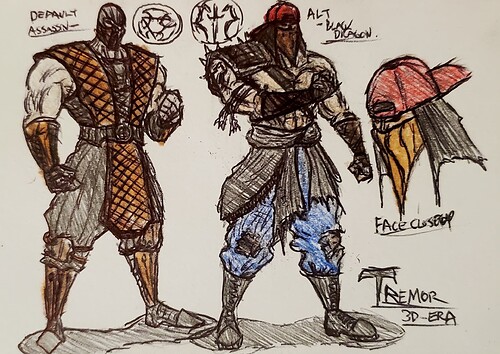 I too like the idea, perhaps they can give him a classic outfit.