As you guys know Kim Wu was revealed this weekend and overall she is amazing in terms of design and gameplay but the one complaint I've seen unanimously is that no one likes her face. She definitely looks Asian but some say she is down right ugly. From reading forums on various website, Reddit, and comment sections of new sites like IGN, Gamespot, and Shoyuken they all think it should be tweaked a bit.
…I have to agree that I hope they tweak it just a little bit. She is suppose to be a college student so about 18 or 20 years old but she more looks like shes in her 30s or something. I love her personality and design but I wouldn't mind if they made her look a tad bit cuter or younger.
She will be my main regardless and her retro is still coming too so let's wait and see what happens.
See what I mean?
This looks a whole lot different…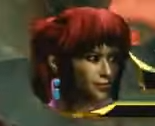 Than This