HUGE EDIT: Point 4 would apply from now on, but many people on PC confirmed Season 1 Ultra Pack that was available in January has been successfully delivered and functional on Windows 10. So, if you got that package in January, it's yours and got the characters.
Hey there. Seen that only 10 days are missing before the KI's launch on Windows 10 platforms, I decided to write a post regarding some important things PC players should know about this game.
PRELUDE
This post has the purpose of informing the newcomers about something they need to gather knowledge in a complete objective manner, without my personal opinions. Due to the lack of some important, essential information in a precise topic or some misleading sentences, I came out with this long, but considerable topic in order to enlighten PC players. But, most important reason of all, it has been written because I want to avoid the spamfest that might happen regarding some facts.
There are 5 interesting points you PC players should understand: 3 being good news, one being bad and the last being the worst. Let's start then…from the best to the worst news.
---
GOOD NEWS
---
1) YOU DON'T NEED A SUBSCRIPTION TO PLAY KILLER INSTINCT (aka XBOX LIVE = / = XBOX GOLD)
The black beast of subscription is hanging around the park for a lot of time. In fact, there are still doubts among PC players about this matter: does Killer Instinct need a subscription in order to be played (like on Xbox) or not? Well, I'm glad to tell you the answer is NO: you don't need it. Below you can see an extract of an answer given via twitter by Adam Isgreen, a man working with Microsoft: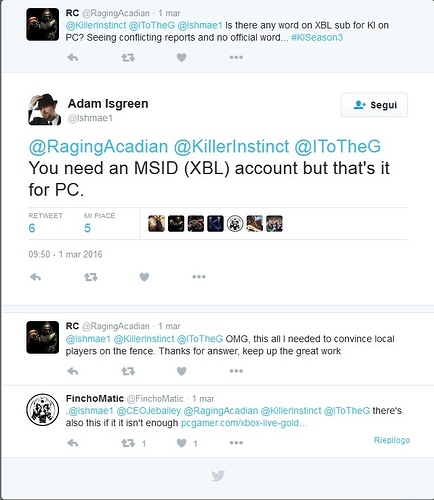 In fact Xbox Live and Xbox Gold are two different things. For the people who don't know the difference because they don't own a console or simply for other reasons, Xbox Live is the simple account you create via Xbox website, completely free, which you use in order to access for various features of Xbox, such as progresses registered via cloud, while Xbox Gold is a subscription required for Xbox owners in order to play online (it gives also some advantages, but it doesn't matter here).
Considering the answer given by the twit, then, it's obvious you don't need to pay absolutely nothing in order to play online via Windows 10. All you need is just to create an account for Xbox and then get access via the Xbox Application that is available in the newest PC platform.
2) YOU DON'T NEED TO BUY A XBOX 360 CONTROLLER TO PLAY KI (aka x360ce)
Despite being said support for Xbox 360 controllers is present, Developers haven't said a word regarding other types of controllers (fightsticks and general joysticks, like L******h). However, in case the settings or your loved periferic are messed up (if you played Dark Souls 2 on PC you know what I'm talking about), well, no worries, because there's a program that can help you.
If you look in the net, by googling, you can find an application that can configure every kind of joystick like a xbox 360 controller. This would help you a lot, expecially if you can't gather a microsoft periferical entertainment system in the brief terms of time (like me).
3) DEALS WITH GOLD PURCHASES ARE PERMANENT (aka gold once, discounted stuff forever)
This is the last good news you're hearing here. But it's something worth it. First of all, what are deals with gold? They are discounts on certain games/packs/DLCs that are given to gold subscribers for a certain period of time.
Well, the question here is legit: why should I spend 7 euros to get a discount? You're right, but what if I tell you that every single player that has a Xbox Live account can get the gold trial subscription for one month at the cost of 0 dollars/euros? Exactly, that means you can use this trial to gather a Season for a discount price without worrying about spending cash to advance to gold. But the best thing is you keep every single purchase you did under this condition (hence deal with gold).
However, this good news is opening the path of the last two important points you should know, one being bad and correlated someway with point 3…and the last being the worst.
---
BAD NEWS
---
4) THE GAMES WITH GOLD STAY WITH GOLD (aka January 2016 S1 Ultra Combo bait)
Differently from Deals, Games with Gold aren't yours forever. Or better, they stay in your account, but in order to play or use them, you need to renew your subscription to Gold again.
That said, I think a couple of you started to realize about the Season 1 Ultra pack given for free under this condition during the January of this year and, in order to get it, used their subscription trial. I feel sorry, but you wasted it…unless you want to renew the Gold subscription.
In fact different people from the PC bought something related to KI from Xbox Store just because of the big, huge deal of January. If you consider that Season 2 Pack was also on discount during the month of January, I let you imagine the rest. On the 29th March, some PC players that are convinced of having both seasons are going to get only one: the S2 pack they got with Deals.
The lack of answers from somebody of the higher floors about this matter during the month of December (in few words, if S1 Pack could be used even after the subscription expired) contributed to the bait and quite a number of PC players proceeded to the purchase of content.
So, in order to avoid further incomprehensions and to inform the PC players that got the S1 ultra in that period of time, remember to get packs in Games with Gold only, and only, if your intentions are to renew the subscription again. Otherwise, forget it.
5) KILLER INSTINCT ISN'T A (REAL) FREE TO PLAY GAME
Here we are. The worst news you could get is in front of your eyes. There's a lot to tell you about this, but I'm going straight forward to the point.
If you think Killer Instinct is a free to play as Warframe, Dota 2, Team Fortress 2, HearthStone, Heroes of the Storm or Gigantic (the newest Xbox One - Windows 10 Moba), well…you're wrong.
Killer Instinct in reality is considered more than a demo, but a lot less than a free to play game. Surely, the FAQ written in this forum isn't helpful despite giving hints. In fact, it hasn't been written F2P, but free-to-download game, but when it comes to explain what the base game is, information is lacking. So I'm going to tell you what the base version includes:
1 rotating character for free, changing in an undertermined period of time (from 2 to 5 weeks)
access to all gamemodes with said character
all the taunts, profiles, colours and costumes, except premium ones, can be gathered for free via experience points.
the fighters can't be acquired for free, only via microtransactions in pure cash (5 euros per fighter or bundle offers).
In few words, if you thought you could get some essential stuff for free, you're absolutely wrong. Unless changing this marketing strategy, you have to prepare your wallet if you want to have the full potential from Killer Instinct.
To conclude, here there is a quote explaining what KI is better and a topic I created 6 months ago regarding this matter:
http://forums.ultra-combo.com/t/lets-make-ki-a-real-free-to-play/1303
---
I hope you got all the information you needed. Remember this topic is also being created in order to avoid a constant spam of messages by newcomer PC players regarding these matters (I imagine in the first week from the release a ton of PC players coming here asking about the possibility of getting characters for free or about the subscription matter).
So, if you have any complaints, at the pact being constructive, you're invited to write here and not to create 10485853254389598 various topics on the same argument.
It will be a courtesy, at last, if a moderator (Skeletal, I know you're there) could pin this topic up so in order for the beginners to have it always under their eyes.