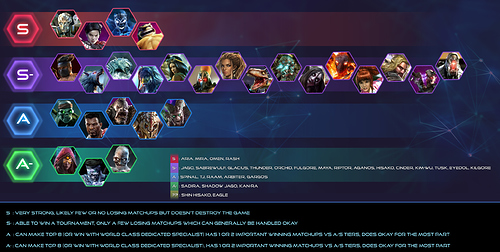 S: Aria, Mira, Omen, Rash
S-: Jago, Sabrewulf, Glacius, Thunder, Orchid, Fulgore, Maya, Riptor, Aganos, Hisako, Cinder, Kim-Wu, Tusk, Eyedol, Kilgore
A: Spinal, TJ, Raam, Arbiter, Gargos
A-: Sadira, Shago, Kan-Ra
??: Shin Hisako, Eagle
---
His reasonings for their alphabetical grade,
SS: Ridiculously OP, invalidates all other characters with easy strategy.
S: Very strong, likely few or no losing matchups but doesn't destroy the game.
A: Able to win a tournament, only a few losing matchups which can generally be handled okay.
B: Can make top 8 (or win with world class dedicated specialist), has 1 or 2 important winning matchups vs A/S tiers, does okay for the most part.
C: Hard pressed to make top 8's, usually a better character in the game with the same archetype.
D/F: Loses most matchups, never a threat, don't pick.
---
Source:
@Infilament, let me know if I need to correct anything.