Hey everyone, it's been a minute since the tremendously big update that rolled out Shadow Lords in September. We can't give you an exact date on when we're going to reveal big stuff, and when that will roll out – we're still working on a bunch of stuff. Yes – a BUNCH. Like A LOT. It'll be weeks, not months. It'll be before Thanksgiving, not after. It'll be after Halloween, not before. Blah, blah – you get the idea. But before we dive into a few details, let's get an important word from Adam Heart, our Lead Combat Designer and new Orlando man.
BALANCE SURVEY
Adam Heart: Hey, Killers. We know things have been quiet for a while (other than these alleged emails from 'Spinal' demanding Halloween buffs), so we wanted to give you a quick update. The combat team is always watching and studying how you guys interact with and feel about Killer Instinct. Balance is an ongoing goal of ours, though it isn't just achieved through how characters interact directly. Tuning risk vs reward factors within the game's systems can be just as important! Keep your eyes out for a survey regarding this that we'd love for you to take a few minutes of your time on to give us some risk and reward feedback. The questions are simple, but they'll help the combat team make a few key decisions about the future of KI. As always, we want to thank you for taking this wild ride with us and helping us make KI what it is today. Fight on!
SURVEY https://www.surveygizmo.com/s3/3135436/KI-Fall2016-FanSurvey
DISCUSS THE SURVEY HERE OFFICIAL Combat Survey Discussion Thread
CLEAN UP ON AISLE 5…
We sure do like our surveys, don't we? Who's to say when we might put something in there and then magically it happens weeks later? (Cough, Eyedol, cough!). While we're speakin' combat, I do want to specifically make sure that you can rest easy: All input bugs will be fixed in this update, we promise. We got as many as we could as fast as we could. Some are harder than others. Sorry for the mess!
NEW GUARDIAN SNEAK PEEK!
Kraig: So back to all the new stuff – how about a little proof of life, eh? Glad you asked. Below is an image of Guardian #6, the Watcher, whose name you've astutely noticed in the Guardian Lab. Here's a first look at the guy while he does his thing. I'm not going to say what he does, but the UI probably gives you a good clue! And he's not the only one coming in 3.5.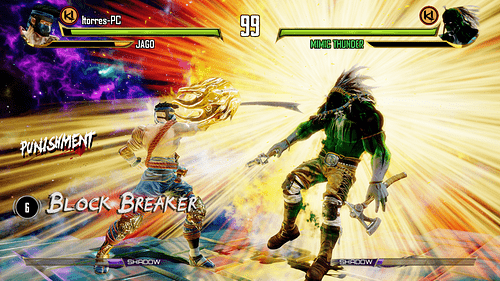 Much, much more to come. Keep checking the Emporium weekly – you never know when a new item or sale might pop-up (hint: they usually happen around the weekends!)
SHADOW LORDS UPDATE!
Shadow Lords has been a big hit! We've been watching everyone playing and it's amazing to see how your strategies have changed over time. As such, 3.5 will bring Shadow Lords enhancements, content additions, and tuning galore! Here's a few eye-popping numbers about the mode:
2.7 million Shadow Lord matches
2.0 million matches played with a Guardian
Now, we've already mentioned the Eyedol Quests in a separate stream (you'll have to do something special to find them!). Another new feature we're rolling out is improved In-Game Leaderboard functionality that shows your score vs other players! Now you won't have to wait until the end of the game to see who you can leapfrog. It seems like a small thing, but we think it'll pay off big by helping you know when to take more risky missions vs not. Nice quality-of-life addition.
PSA: WIN 10 PLAYERS - GET YOUR ANNIVERSARY ON!
Most of you probably know this, but if you're playing on PC you MUST update to Windows 10 Anniversary Edition. Here's a handy post that shows you how:
SHADOW ME THIS, SHADOW ME THAT
It's weird. I don't know how we ended up with Shadow Meter, Shadow Lab, Shadow Lords, and Shadows, but we did. Shadows are big part of what KI is now. So do you really think we would stop there? What else do Shadows really need? You'd almost think that they would need something visual. Something punchy that makes them stick out. After all, they're certainly at least as important as Mimics, aren't they? Hmmmmmmm.
Something to think about.
Love,
Kraig @kranged