I blame that whistling instrument and the drums.
I had no idea that Negasonic Teenage Warhead named herself after a song that debuted in 1995. LOL! That's officially at least 1 reference from Deadpool that I didn't get.
Also props to Paint It Black - I loved that song ever since I 1st heard it in the Twisted Metal Black video game's rolling credits.
Another song that I really like is Through the Fire and Flames by DragonForce. Now that's a song that gets me pumped up! Lord knows it made my fingers bleed in the Rock Band games.
There are too many songs that I like in many different genres and languages. To list them all I guess it would take me weeks to do that, so I will just name some that I can think of at the moment.
Songs that cheer me up:
The Star - Exo (Korean)
Gee - SNSD (Korean)
Oh - SNSD (Korean)
Share the World (One Piece Opening Theme Song) - DBSK (Japanese)
You and Only You - Kangsom Kanatat (Thailand)
Treasure - Bruno Mars
Sugar - Maroon 5

Songs make me feel relax (Most of them are instrumental music):
When The Love Falls - Yiruma
River Flows in You - Yiruma
Love is Like s Flower - Danbi
I Always Miss You - Danbi
Dong Song Lo Dang - Café Yesterday (cannot find this piano version of the song anymore but luckily I have it saved)
Wo Ai Yu Ye Hua/ I love Rainy Night Flower - S.H.E (Taiwanese)
Sakura Mankai - Morning Musume (Japanese)
Tears of Tropical Fish - Flower (Japanese) (Cannot find it on Youtube anymore )
Sun to Sunflower - Flower (Japanese) (Cannot find it on Youtube anymore )
Baby- Exo (Korean)

Songs that make me feel emotional:
Nhat Ky Cua Me - Hien Thuc (Vietnamese)
La Tu Em Da Tinh - Ho Duong Lam (Chinese song but I only know the song's name in Vietnamese)
Ye Qu - Jay Chou (Chinese)
Unwavering Emotions - Pokémon X and Y
Kiss of A Rose - Seal

Upbeat songs that make me feel like I can go out there and Riptor them all, then conquer the world:
Nemo - Nightwish (one of the very few rock songs that I love)
In The End - Linkin Park
Fan - Epik High (Korean)
Diva - The Replay Company
Animal - The Replay Company
Angel with A Shotgun - The Cab

Song(s) that make(s) me feel relax, inspire and focus on doing my projects and assignments:
Path Of The Wind (Totoro OST) - Joe Hisaishi (The legendary song to me, no other songs can beat it at this moment. Must be the piano version)
…And other Ghibli Studio movie's sound tracks.
Lmao I just picture a distraught face filled with pure confusion as he lays there knowing he dun goofed up.
Lol "bust a move".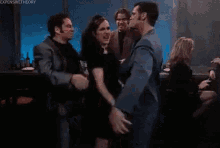 Hah.
[quote="oDragonSpirit, post:23, topic:10912"]
Riptor them all, then conquer the world:
[/quote]
I got you…
Don't you hah me David.
This pretty much sums up the whole song
Best song of the year, 10/10, I love it!
Yeah I like a decent amount of rap from Run DMC, NWA, Public Enemy, A Tribe Called Quest up through Dr. Dre, Snoop, Eazy-E, Ice Cube, Warren G, Nate Dogg, Daz, Kurrupt, Xhibit, Bone Thugs N Harmony, Wu-Tang Clan, Tupac, Notorious BIG up to Eminem, Jay Z, Master P and most of those No Limit people like Mystikal, C-Murder, Mia-X, Silk the Shocker, etc and a lot of the Atlanta stuff with Juvenile and the people at Cash Money. There are a few rappers I like out there today like Lil Wayne, Wiz Khalifa, Fetty Wap and maaaaybe a song or two by Kanye. Maybe.
Honestly, I like most stuff. 60's up through today. Whether it's The Stones, The Who, Skynyrd, Zeppelin, Sabbath or Roxette, The Go Go's, Joan Jett, or Heart. 90's Grunge, modern folk, maybe a little country here and there.
Love Industrial, obviously, and metal, from the 70's stuff like AC/DC, Judas Priest, Rush up through Metallica, Pantera, Megadeth up through Sevendust, Slipknot, Coal Chamber, Godsmack etc up to more current stuff like Trivium, Avenged Sevenfold, Lamb of God, etc. I even still like some rap rock, even if it's a fun genre to crap on these days. Say what you will about lyrics and what not, but Reanimation by Linkin Park is still a well put together album that (somewhat) holds up.
So much more stuff I could put on that list! Far too many to mention. KMFDM, Our Lady Peace, Anthrax, Chimaira, Stabbing Westward, The Donnas, Pistol Annie's, Guns N Roses, Tommy James & The Shondells, Rise Against, David Bowie, Robert Palmer, Deam Martin, Ministry, Gordon Lightfoot, The Jesus and Mary Chain, Beck, Seven Mary Three, Primus, Grandmaster Flash, Prince, Frank Sinatra… Too many to list!
Oh and a little band called Tool, who might be one of the best ever. Yes. Ever.
Sure absolutely! Now, I'm a little prone to hyperbole, but the first song, top of the list above is "Jambi" by Tool.
Reason I put that, is because it's one of the most audially perfect songs I've ever heard. It's seven minutes and twenty nine seconds and I actually wish it were longer. It takes you on a journey, it builds and dissipates and rebuilds with smaller crechendos up to the big one going from this Pink Floyd-esque background guitar up to straight metal.
Everything, every note, every lyric, each sound… It's just amazing. Here comes the hyperbole: I think it's one of the best songs released in the last 40 years. If Tool were mainstream, if their style was mainstream, if people consumed music like they did twenty years ago… If there were a perfect storm of opportunity, where s song like this, which is so long and so different could actually get radio play and get noticed in the right era of musical consciousness, it'd be considered one of the greatest songs ever written.
I believe it's that good, and I believe that band is one of the most criminally underrated groups since The Grateful Dead.
Hmm, took a little too long on one song lol. Think I'll stop there.

basically any 90s baby who grew up in front of MTV
i surprised myself as i have grown fascination with instrumentals and experimental music, 20s-50s and new age/ classical!
115
enough said.
(and by extension, all related songs by those people.)
…Yeah…weren't expecting that were ya?
…Actually not really, but there are so many songs I wouldn't know where to start, so I'll just start here:
These songs are just so energizing for me. In fact, the entire soundtracks of these games are great. I also find myself often listening to Freedom Planet, Killer Instinct and Sonic game soundtracks. A game with a good soundtrack can make all the difference.
P.S. I'll make sure to replace the FE song above with the English version when it releases tomorrow.
"CAN'T STOP THE FEELING!"

can't help but smile throughout this song
Youth

helps me relax after a tense situation
Seeing Stars

gets me in a upbeat mood
I can so totally picture Rash players tuning out to Miley Cyrus:
#"I came in like a wrecking ball!"
This made me get depressed and sad (must contained…the…tears)

This makes me feel calm and relaxed and who can forget about the drums in the end?
Since I've became a new Doom fan thanks to the new game, I've played the first two games and
this made me feel like I want to dance as it's my favourite Doom track
This one actually made me feel in-tensed almost like I'm actually in Hell and for a 20 something year old game, that's saying something.
Around the age of 6, my dad play me this music to calm me down incased I was hyper. It felt smooth, relaxing and made want to cry at the same time.
Here's the English version of the song posted above. And…holy god this is hype.