I've been wondering how IG might pose Tusk in his neutral stance.
Back when KI was first announced, alot of people noticed that Jago's Wind Kick had him fly through the air with his front towards the screen, while he clearly had his back turned on the screen in past iterations. The reason for this, as far as I remember, is because Double Helix had some problems with it showing his back or something like that.
So I wonder if that means IG might have some problems with Tusk if he had his back turned in his stance, as he did in KI2: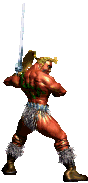 Personally, I would be understanding if that's the case, and have Tusk face his front towards the screen instead of his back. It's a minor thing, and though I think it is pretty cool that Tusk kinda breaks the typical by having his back turned, it won't break my entire view on him.
(Some fans have a tendency to over-exaggerate, calling everything broken, wrong and disastrous just because of a few minor things that are in truth rather insiginificant)
I do wonder, since Tusk has that awesome tattoo on his back as shown in the teaser trailer, if he has that indeed because IG intends to have him turned his back on the screen in his neutral stance.
With all that detail put into that design, it would be such a shame to have that be hidden, and I hope IG indeed put that much detail in it BECAUSE Tusk will have his back turned!
What do you guys think?