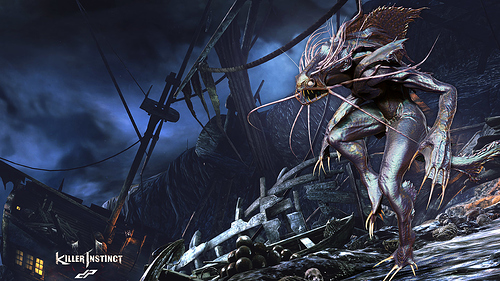 Proof Here: https://www.reddit.com/r/killerinstinct/comments/4eo1t1/the_truth_about_the_recent_leaked_fish_monster/
I was given permission from one of the mods to open up discussion about the character here with the community. I suggest you read the Reddit post above regarding the story behind the image and the creature's design.
Fun Fact: The Creature was intended to be Female and it's codename was "Sea Viper". An obvious parody of another fighting game character while also paying tribute to it's design being based on a Viperfish.
The reception the image had gotten was overwhelming, and I was quite happy to hear so many people say "I want it to be real" or "It looks incredible but I am really hoping for Eyedol". See I am in the same boat, I wanted to see a "Creature From The Black Lagoon" type monster for awhile, but I am also really hoping to see Eyedol in the eighth slot.
So why did I make the character and go through so much trouble to grab the community's attention? Well, I want to push for 9 characters, as we had in the first 2 seasons. I think we should all rally behind another community funding event and get one last character, and I think to send off KI again until the next installment, we should get a new beast character, which I think really reflects on the essence of the very first game.
I mean, think about it. Since the new KI came out. Have we actually had any NEW beast characters? Aside from Aganos and Guest Characters, every new character looked human. We haven't actually had a new and original "Beast" character along the lines of Sabrewulf, Riptor, Eyedol, or Gargos. Aganos is the only really exotic new character we've gotten that doesn't look human.
Comments? Discussion? I'd love to hear people's thoughts on the design and if it's something they'd like to see in a 9th character, assuming of course that Eyedol is already #8.