Saw an interesting post on Twitter today that listed out some of the mental blocks and tendencies that people can develop that keep them from getting better at the game. I know that I see some of these in myself, and I imagine most of us have hints of at least one or two of them, and perhaps even a goodly chunk. As ever, I think being aware of our flaws and intentional about fixing them is the best way to improve, so here's the list, and here's which ones I think I need to work on.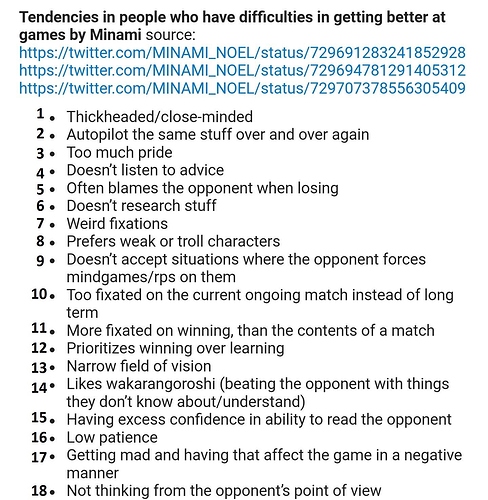 For myself, I've definitely got problems sometimes with numbers 11 and 13. I spent a LOT of my early KI days playing a lot and not really learning, because I was just so focused on winning that I rarely stopped to ask why certain things were working or not. And now, I can certainly say that I love hitting people with things they don't know how to deal with, which can be strong in certain circumstances, but does little to prepare you for that moment when you meet the guy who can deal with your shenanigans. I've also got issues with numbers 2 and 6 at times. It's really easy to develop flowchart tendencies if you're used to dunking people, and I only head to the lab if I'm really jammed up on a particular setup or issue. Both of these can and do cost me games sometimes.
So those are some of the mental blocks that I've got in my game. What are some of yours?
EDIT: replaced original pic with one where the numbers and bullets weren't so poorly aligned.