Continuing the discussion from Skeletal's Ranked Challenge: Introduction & Poll Thread:
What Is Skeletal's Ranked Challenge?
Throughout the first two seasons of Killer Instinct, I played Thunder almost exclusively. Because of this, my ability to play other characters has been limited, and I'm hoping to change that with Season 3! I am planning to use a combination of the changes to Ranked Leagues, input from the Ultra-Combo.com forum community, and a healthy dose of trial and error to earn some achievements, expand my understanding of the game, and my stable of playable characters!
Skeletal's Ranked Challenge is a pretty simple experiment:
During the last week of each month, a poll will be posted in the following thread to allow forum members to vote for their favorite character from a list I have selected.
http://forums.ultra-combo.com/t/skeletals-ranked-challenge-introduction-poll-thread/

For the next month, I will practice with the winning character, in order to learn their moves and playstyle.

On the first available day each month, I will voluntarily reset my rank in Ranked Leagues and drop back down to Qualifier. My Ranked matches for that entire month will be played with the chosen character, in order to keep a list of my progress, wins/losses, and to force me to actually USE the character I'm learning.

My progress records for TJ Combo will be listed in this thread, sometimes as "bloglike" text posts, and other times featuring clips, gifs, or screenshots when available. Ranked stats (including potential end-of-month Killer League points) will be kept in this thread whenever possible.

I will not always be playing Killer Instinct when I have time to
game, and when playing Killer Instinct I will not limit my character use
when playing single player modes, or Exhibition matches with friends. I
do not want to completely burn myself out!
||||||||||||||||||||||||||||||||||||||||||||||||||||||||||||||||||||||||||||||||||||||||||||||||||||||||||||||||||||||||||||||||||||||||||||||||||||||||||||||||||||||||||||||||||||||||||||||||||||||||||||||||||||
FORUM PARTICIPATION RULES AND GUIDELINES
Please understand that I am not an extremely high-skilled player. I do not spend much time in Practice mode or studying frame data. I have a bit of a tendency to button mash, and am AWFUL at breaking. I also sometimes struggle with particular inputs. I have never been as interested in or committed to a fighting game before, but I love Killer Instinct! With this in mind, please make sure that any posts you decide to share in this thread are constructive criticism, advice, and encouragement, because I understand that I have many flaws to my gameplay, and I'm looking to improve through this Challenge.
While this will hopefully be an interesting or entertaining experience for you, I already know that this will be a difficult and potentially embarrassing journey for me because I am sharing the information with everyone here.
Please vote in the monthly polls, and share your character-specific feedback on each character's thread. Your input will be important to this experiment, as your comments, suggestions and advice can help me to learn a particular character or matchup, or understand how to correct a fundamental weakness as well. By helping me to choose a character each month, you are also motivating me to not simply fall back on Thunder all the time, and to pick a wide variety of characters even if I would not normally have chosen them on my own.
||||||||||||||||||||||||||||||||||||||||||||||||||||||||||||||||||||||||||||||||||||||||||||||||||||||||||||||||||||||||||||||||||||||||||||||||||||||||||||||||||||||||||||||||||||||||||||||||||||||||||||||||||||
June's monthly poll for the Skeletal Ranked Challenge has concluded, and the winner is TJ Combo!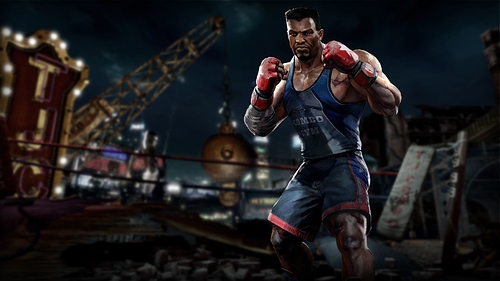 TJ was always a character I admired from afar; I love the way his massive punches feel absolutely brutal, I like his visual style, movement and idle animations, and how strong a character he seems to be when played correctly, particularly with all of his available tools. I have always struggled to break against TJ, and tend to get caught by Powerline and Tremor (not to mention the command grab) all the time! I placed TJ into my June character poll because I think that being "forced" to play him in Ranked for a while potentially gives me a chance to really learn counter-strategy against him, as well as possibly adding him as a reasonable alternative pick.
I will be doing a heavy read-through of the KI.Infil TJ page, so I expect I will once again owe @Infilament my first-born.
Most of the characters I have considered playing in KI (with the exception of very casual Sabrewulf play) have been QC motion characters, so learning UD/FB is going to be interesting. I think I have the potential to learn both recaptures and flipouts with TJ as well, which is something which would definitely add to my game. Mira is the first character I played with a recapture, and although I wasn't able to land it as often as I wanted to, having that as an option when my opponent was launched/jumped was intriguing. I think TJ has a bit more flexibility in that department.
Auto-Barrage has been a major thorn in my side from both directions; playing against TJ I can NEVER break it, so I always end up eating that massive damage ender. Playing AS TJ I would constantly end up doing one unintentionally, meaning I couldn't get my combos/shadow specials to work the way I wanted them to. This Challenge will, hopefully, improve both aspects.
Feel free to share your thoughts, wellwishes, advice, setups, whatever! I will play my first Ranked matches with TJ within the next day or so!