Anyone can tell me how to make my own themed Fightstick?
I have MadCatz Xbox one.
go to Krizms Kazm youtube page and floow the link and instructions…plenty to choose from and he may even make you one specific if you ask.
Thank you!

That classic Orchid stick looks SICK!!!
UPDATE: I got a TE2!! Any suggestions for customization?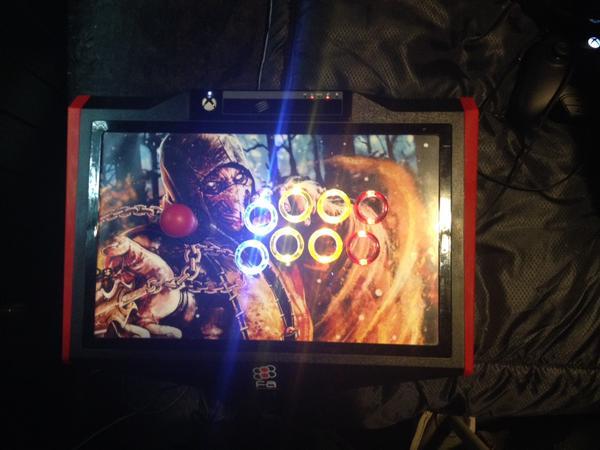 What it currently looks like… Since MKX was a huge disappointment for me, I'll probably update the art if any S3 KI characters interest me.
4lb tension spring, bat top Sanwa joy stick, over-sized actuator, translucent Seimitsu buttons (white, yellow, orange, red), LED PCB, Scorpion Art.
Here are some of my other art templates

Ah man, I wish I were good enough to design something similar to these. I really don't like the Razer Atrox default layout. They have pre-made fightstick artwork but it is very limited. Nice stick guys, I'll probably end up paying someone to do mine. Hope the price isn't too absurd.
I've been a Thunder main since season 1, but just recently got my Razer Atrox. But here you go!
If you are interested in getting some custom fight stick artwork done, hit me up!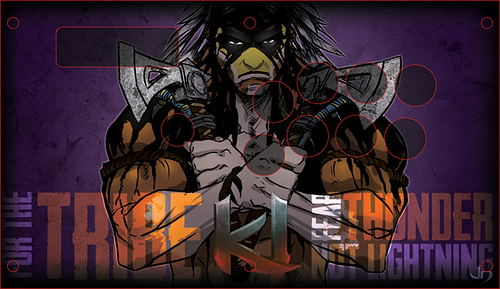 Guys should of gotten a atrox instead
You guys ever see foe hammer custom joysticks the guys live 3 hours away they make good customs and for a basic dual mod build they only charge like 250 350 depending how fancy you want to go
HI
Iam a Thunder Player too.
This art is amazing!
You can share this image? is yours design?
I've recently added two more sticks to my collection a Hori RAP4 and a MadCatz SFXT Pro. I've got art and plexi's coming for both, and I'm also updating the design on my TE2 too. I'll probably be reviving this thread in 2 weeks.
After getting the Hori RAP4, I had no choice but to switched both other joysticks over to Hayabusa's with Kowal octogates too. They're the best joysticks I've ever put my hands on, they literally improved my game as soon as I touched them!
These fightsticks are so impressive. The time and money spent seems worth it for a one-of-a-kind design. I am a pad player and I'm unsure if my game will improve using a stick. It sure is a lot of money but seems like such a cool thing to have, just to have.
gotta love those pads… sooooooo relieved when they kept the option to use the pad
WOW! very nice! Good luck at World Cup! Krizm does such good work and is super cool to do these things for free. I know he didn't draw it but to put it together…it looks perfect.
I need to fix up my TE2 with some color buttons and custom graphics…even though I dont use t much.
it really is…its fun, exciting and its like a piece of art. I have 2 and I just like the way they look on the table next to the XBOX!