EDIT: This was posted pre-release so all points are based on the early build of Shadow Lords
Firstly I want to say the fact that the mimic skins even exist is remarkable, I love the idea and its a fantastic way to weave the doppelgangers into the plot without making it overly confusing. I love the green theme, it fits perfectly with Gargos and now all of that green smoke thought the season 3 UI makes perfect sense! Plus the smoke effects look amazing, one small tweak and suddenly they stand out, great idea on that one. Overall mimics are badass!
That being said, I'm seeing a lot of feedback from people on the forums and others online that don't really like how they look, likening them to "Hulk skins" or trying to say they look like they've got hygiene issues due to the green smoke VFX. Personally I love them, for the most part but there are some that could use work.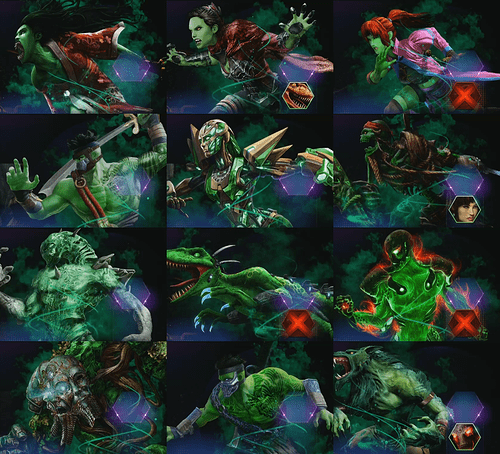 The full-body mimic skins are by far the best. Skins such as Fulgore, Glacius, Sabrewulf & Riptor. Others… not so much. The ones that are wearing their default clothes with green skin look pretty strange, to say the least. I feel like those skins would look a lot cooler if they simply had a complete green set of clothes to match their new skin tone. Kim's looks particularly garish with the green skin and nearly hot pink costume on top.
Some of the mimic skins are very inconsistent such as ARIA's skin, her body looks bangin in that gorgeous green and gold skin but her drones are left all alone still wearing the default skin color that magically pops in green when she changes bodies. This is where I get into somewhat of a nitpicky tangent, so beware. Skins like Riptor's have blue plasma colors all over but the hexagons on her body are green for the sake of consistency the hex spots should be blue I'd think. Fulgore's blades that are made of the same material are green on his skin for example.
Oddly enough I watched a stream of Shadow Lords and actually noticed a Jago mimic playing a mirror match and he had Jago color 2's clothes with green skin whereas they normally appropriate color 1's coloration. I don't know why this is, maybe a glitch or part of how the skins function but it was noteworthy. Maybe the "shaders" Adam mentioned in the stream a while back are at play here, some form of adding VFX and such to a character like an accessory?
Overall I love them but I'd say some tweaking could really bring them home for the full launch.
Other notable suggestions & improvements:
Make the Mimic's eyes glow (green or purple for example)
Change the Mimic's clothing to purple or green to fit with season 3
Make alternate Mimic skins with purple coloring & smoke instead of green
Post-release suggestions:
Allow mimic costumes to be customized with accessories
Allow mimic costumes to be equipped on Shadow Lab shadows
Allow mimic costumes to be used in Shadow Lords mode (colors aren't canon)
Add other colors for mimic costumes like purple for example
Maybe let us pick default colors so we can match our green skin to a particular set of clothing