This is amazing. Spiderman's movie rights are owned by Sony…Killer Instinct? Whoa!
inb4 Kim Wu's face comments flooding this thread!
Spiderman is next character! Kappa
This commercial is awesome!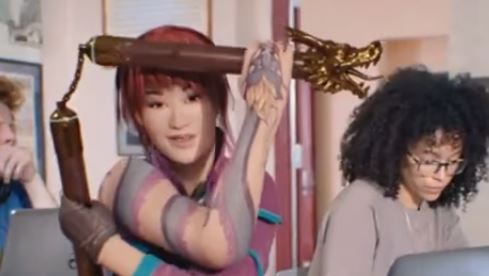 What's wrong with her face?

It's just a callback to some previous threads concerning Kim Wu's facial features.
Pfffft and they say Microsoft doesn't promote Killer Instinct.
It's so strange how it often feels like the game is being developed on a low budget right now, yet the game is being promoted more than it has ever been.
Are we keeping support with this game or not? I'm really confused. But it does give me hope there may be more for the game than we think.
Gotcha.

Back on topic: Yeah apparently Dell's been using KI to promote the crap out of their products for months now.
What's even crazier is it's being promoted next to somthing as big as Spider-Man no less.
I have to say I am very optimistic about Killer Instincts future.
Well. If you goto the windows store, it would be nice if it was on the home page.
@rukizzel is there something we can do as fans of the game to make that happen?

Wow they actually created unique assets for it? I figured it'd just be another cameo like it was in that TV show a while back. Hell, this is the biggest budget advertisement KI has ever gotten though that's not saying much since KI gets no ad time.
If only the teacher had turned into Aganos. Really fascinating seeing KI get this sort of advertisement treatment.
Honestly though this kind of ad seems more like it'd be promoting KI fruit snacks or something, what with all the kids turning into KI characters & all.

Lol that was amazing! It is wildly exciting to see KI in a cross-promotion that carries this level of visibility… I can't even find a KI push at my local Microsoft store, so this was a very pleasant surprise. Fact they used Kim and Mira over more obvious choices was icing on the cake!
Spider-Man for Killer Instinct plz!
The thing is, with them not mentioning KI anywhere in the ad, would people recognize the game if they're not aware of it, or would they brush it off as simply one of those ads where they make a fake game and add in fake fantasy characters to say "see, look at all the exciting adventures you'll be having if you buy our product!!"?? I would think anyone not familiar with KI would think the latter.
We've had Spider-man in KI since season 1.

I wish Mira was my history teacher…
Kid: You gave me a D??? There's no way I'm going to get that scholarship now! You ruined my life!!!"
Mrs. Mira: Your life, my plaything.