Here it is! Time to mine them back to the new forums!
In chronological order!
(Old) Call of the Sky
Sabrewulf and the Wolf
Sadira and the Spider
Nuff' said.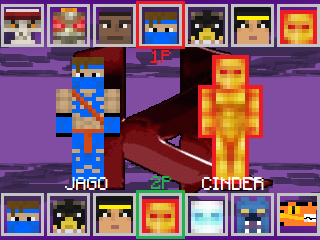 KI1 Classic Select Screen in Minecraft Style
Orchid and the Villager
Sadira's Nightmare
Cinder vs. Glacius (KI1 Classic Style)
Jago vs. Fulgore (KI1 Classic Style)
Cinder, watch your back!
Omen vs. Herobrine
Glacius must let it go
C-C-C-COMBO BREAKER!!!
Conker's Biggest Dream
Nyah!
Reunion
Man vs. Machine in Minecraft Style!
???
And those are all the pictures that were posted back in the Season 2 forums!
You're all probably wondering, "Have you made new ones so far?". Well, I have done ONE! That's right!
Without further ado, this is my new KI Minecraft pic!

Sadira's Birthday!
So long story short on why I made this short comic, I made it because I found out it was Erika Harlacher (Sadira's VA)'s birthday. So upon making this, I sent it to her via Twitter, and guess what? SHE LOVED IT!

Well, that's all for now. More to come if I have the chance or time! These are all done with Mine-imator BTW!
Thanks for reading, and FIGHT ON!!! Until then.