Who
Our own Storm179 and a mix of Japanese EVO veterans like Tokata, Domi, and other prominent Japanese KI players
What
Offline casual KI matches during Storm179's visit to Tokyo. Recorded with a handycam, lol.
When
Tuesday, October 18
Where
Some place in downtown Tokyo
Why?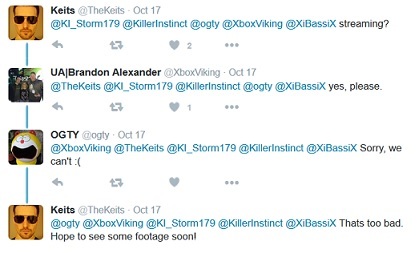 Disclaimer
i. Most players were rusty from travel, too much Ark Survival, SFV and life in general, so don't judge too hard.
ii. Was recorded with a cam corder, a Sony cam corder to be exact, so if my hand shakes too much blame Sony

---
Enjoy!!!
Storm (Hisako) v Keisuke (Cinder)
https://youtu.be/8rbEBNxvNaA
Storm (Hisako) v RET (Wulf)
https://youtu.be/hRfMURO_0NM
Storm (Hisako) v Domi (RAAM)
https://youtu.be/1kB-KWRlX5I
Storm (Hisako) v Ogty (Arbiter)
part 1:
part 2:
https://youtu.be/QtXM5EttvGc
Storm (Hisako) v Tokata (RAAM / Tusk)
https://youtu.be/MU7MirMddsw
---
Thank you
A big thank you to Ogty and the Lucy Shot Bar host for arranging the venue, and equipment.
Also a shoutout to the others for taking the time to entertain Storm who was on a TWO WEEK KI drought. So thank you, Domi, Daniel, Tokata, Keisuke. And last but not least, Ret for joining in for a few online matches. For those of you in preparation of the Red Bull SFV event: Good luck!
@STORM179 safe trip home!
@TheKeits These vids are also for you. Thanks for everything!