You can't see the full character costumes anymore! Anyone else annoyed/bothered by this?
For seasons 1 and 2, you were able to clearly see the color patterns and designs of every character. Now, the green mist on the bottom blocks your view of half the outfit. For some characters, this makes it hard to see exactly what character your'e walking onto the stage with. This is especially the case for Jago…
Season 1: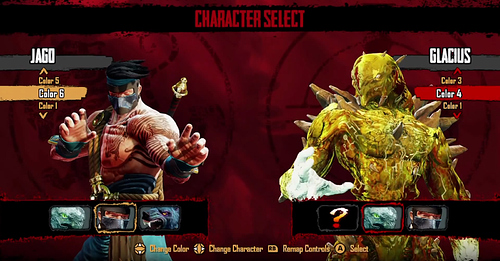 Although the character selection scroll is on the bottom of the screen, the scroll itself is both small and see-through, allowing the player to see as much of the outfit as possible
Season 2:

Here, characters are given their own space on the sides of the screen, allowing the viewer to clearly see what colors they will be representing on the stage.
and just to keep with Jago (sry it's not as big)

Again, we can clearly see that Jago is wearing blue pants here
Season 3: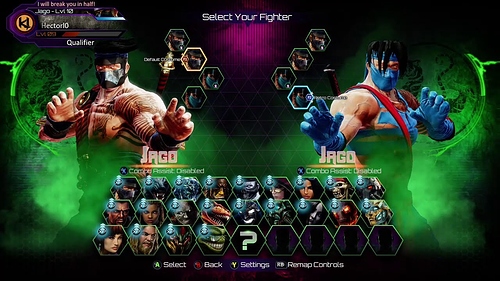 Here, Jago's colors are clearly obstructed. (Obviously talking about Standard Jago on the left, not his Retro on the right.) If you were a brand new player, or even just someone who doesn't play with Jago too often, you wouldnt know what color pants youd be stepping onto the stage with…
And just to show it's not just Jago (again, sry for the size):

Besides Tusk's hair, there's no way you can tell what color you're selecting…
…
I suggest that the green mist either become more see through, or maybe not come up so high that it covers half of the character. Or maybe, change it to sort of a band of mist so that the very bottom of the character is visible - kinda like the character selection screen in season 1.
Either that or get rid of the mist completely. Because it's really annoying not being able to see the colors on some of these characters beforehand.
Idk, what do you guys think? Thoughts? Other Suggestions? Comments?