In case you missed it, Wednesday was the 1 year anniversary of the release of the Killer Instinct Definitive Edition.



To celebrate, I dug out some pretty sweet swag for this week's free stuff Friday. Here's what's up for grabs: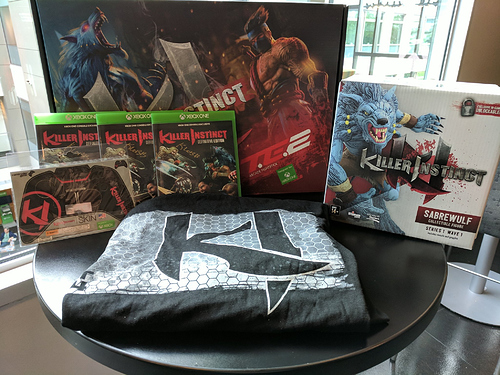 Normally this is an easy, "RT to be entered" but for this, we're mixing things up a bit. Here's how to enter:
You need to earn an achievement in KI between today and next Friday, September 29, 2017 at noon Pacific time.
That's it! You have to play KI, unlock an achievement, grab a screenshot of the achievement, and post back here with it sometime in the next week.
If you've somehow no-lifed KI and have all the achievements, you need to prove that with a screenshot of your achievement completion and then provide a screenshot of your favorite combo in the game. (As in, just play the game using your favorite character and snag a screenshot during a match.)
The winners (yes, plural!) will be chosen randomly. Here's the prize breakdown:
KI:DE copy signed by the one and only, Ken Lobb, and KI t-shirt
Signed KI:DE copy, KI t-shirt, and Sabrewulf figurine
Signed KI:DE copy, KI t-shirt, Sabrewulf figurine, and KI Fight Stick
The shirts (L, XL, 2XL size only) are courtesy of Eighty Sixed and the figurines are from Ultimate Toy, be sure to check them out!
Note: Anyone posting anything other than entries to the contest will have their posts removed. This thread is for submissions only!
Remember: You have a week to make this happen. We'll be selecting the random winners next Friday.
Good luck and FIGHT ON!
Winners have been drawn!
3rd place: @SJMAC64
2nd place: @MorfineSdesign
1st place: @Hogarn