Wow this post is getting long. Sorry.
First of all, I love the idea of the new ender effect. You guys have done an awesome thing with the blackout. I do think there's a place for the effect. I do not think that place is on level 4 enders.
To get straight to my suggestion: I think the blackout should occur only during a level 4 SHADOW ender. (Aka level 5 ender).
My logic:
-This way, we can still get the old shadow ender if we want (by using it as a Level 3 or lower ender.) In other words, we won't be losing anything.
-It's a shadow ender! It makes sense to allow it to blackout the screen at its highest level (because shadow!) If getting rid of the purple ink effect is the only way, I think that's okay. We could just say that instead of channeling shadow power, they momentarily become one with it (hence the blackout.)
-Level 4 shadow enders are the most damaging. This new effect is a little too dramatic for a regular ender.
-Shadow enders don't have those '1-2-3-SMACK' dynamic combo ender animations which the new effect interferes with.
Some of us just love that powerful finish of those level 4 regular enders. I felt that was diminished by the new effect. Look at the regular level 4 damage ender for Glacius, for example. You can almost feel that last bone-jarring uppercut as it shakes the camera. I don't feel that as much with the new effect. However, If the screen were to blackout on the shadow version of his level 4 damage ender, I'd appreciate the cinematic effect a lot more, and I wouldn't feel like I'm missing out on any special animations. It would just look like a powered up version of the same shadow move he hits me with when I'm trying to jump kick him.
What about Omen, who has no shadow ender?! - I'd say apply it to Demonic Despair.
What does everybody think?
Edit: To meet any goal of rewarding level 4 regular Enders, I suggest maybe adding a little more camera shake. Perhaps a tiny bit of slowdown for some moves.
Any change to level 4 enders we currently have (S2) should be subtle. It seems like most of us love a good high impact feeling from those enders. Too much fancy camera motion isn't needed on these, IMHO.
Edit 2: Additional feedback/pros & cons:
People seem to be admiring this gif. There's a subtle camera swing and that delicious camera shake on the second fireball. This would be nice, but it's just an example of what many seem to like. Not too dramatic but powerful nonetheless.

I'm not comparing these to disrespect the new effect or displaying it in mockery. The new effect might not be polished. I'm only showing that missing "Oomph" on the second fireball.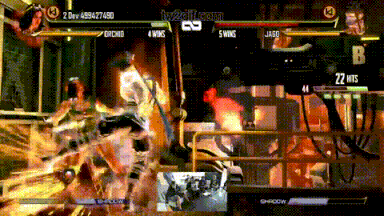 There is a fantastic drama to the blackout. But I think a maxed out shadow ender is more deserving of that drama. As a shadow ender, they could turn the mist dark purple and it would feel great, I think.
One thing I do like about the new effect is the fresh angle we experience. I never knew Jago throws from each hand on this ender! However, for some moves of some characters there was a 'sharp zoom in + camera swing + sharp zoom out' which many have described as "jarring" or "disorienting".
I love the goal with this effect. With a bit of redirection, and the polish we've come to appreciate from IG, I think this effect could really turn up the juice on KI gameplay.
Remember though, as Keits has said many times, they can't just flip a switch to make things happen. If this change is even considered, it may be a while before we see it happen. Be optimistic, you guys. S3 is right around the corner!