I wonder if the devs realize that they've opened pandora's box with this. Because you know if they don't nip it in the bud early and give a definite and absolute "NO" he's going to be requested and requested until it becomes a reality.


They already said multiple times it's a joke, but people are pressuring them to make it real lol
I want this. I want this so badly.
I feel like this was all part of IG's plan. Pretend it's a nice meme, but bam, Clippy guardian for real. Atleast, that's what I'm hoping for. The community clearly has interest.
Getting some humor in this game where the most we have is Rash and some Kan-Ra shenanigans, I would be quite happy.
I gotta be honest, it would help further establish KI's tone as not being completely deadpan serious like a lot of people seem to either think it is or think it should be. Maybe adding Clippy would help lighten people up and just enjoy a good game.
Like we did with Ultimates? JK JK
Seriously. No. No. This was just fun, and honestly a prank we had considered running long ago. Saw an opportunity to have some fun, and ran with it. That's it! Expect nothing from this.
Didn't Microsoft create clippers? It would be one heck of a crossover guest character as a guardian
Aww…
…well in all seriousness KI could honestly use something similar that would help lighten the tone a bit, make people realize it's supposed to be a fun game and not a deadpan bloodbath.
no please
please Eyedol me my man, I just want Clippy guardian
Hnnngh, do want, though.

Because Clippy is Blue? Blue's Clues?!
No, no clue. Just something we had a good time with.
The Clippy Dream is dead guys…
RIP Clippy.
Keits said the dev team had a good time with the OTG change to Cinder's pyrobombs so they added it to the game.
Expect Clippy sometime Holiday 2017.
(Keep the dream alive)
"The Clippy Guardian automatically executes Ultra combos for you as long as you hit the opponent while they're in Danger"
Somewhere, in an alternative universe, @rukizzel actually posted this on April Fools Day 2017…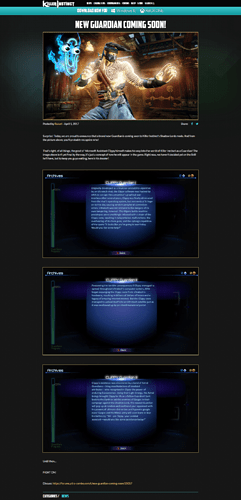 (P.S.: I'M SORRY)
I will neither confirm nor deny that this is an awesome idea.
real talk, I'd play the f**k out of shadow lords for a clippy guardian. SL mp seems flat out dead though.