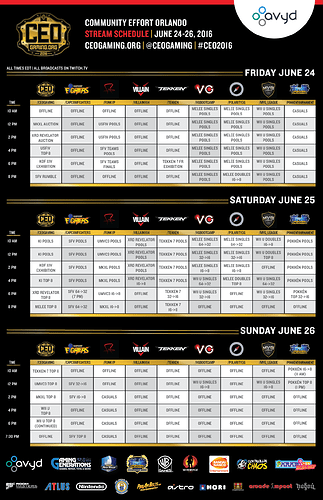 Streams:
www.twitch.tv/ceogaming (Ki will be streamed here, starting pools on Saturday 10am, and top 8 on 4pm)
Other games;








Nice, thank you! I will definitely be tuning into to watch KI on Saturday!!! Hopefully Bass and Nicky are competing, I wanna see one of them take 1st!
Tune in and watch me lose!




Lol
Oh you are competing? Good luck dude, ill be routing for you too!!!
Yours truly will be there. Supporting my KI and UA family, as well as my new team, Naventic. Look for the guy with the best man bun in the fgc!
Really. Well, if that's your wish then I'll be cheering for all your opponents all the way to your final match, you know, ahem, grand finals.
I wish a good luck for you guys that will paticipate!
Shine on!!!

Good luck to all the players there.
Lose and we're no longer friends.

https://cdn-standard.discourse.org/uploads/gemsofwar/original/2X/c/c70559dfbf3fc2e18f30bccb9a41d1185c783d4c.jpg
WTH, they cant even figure out how to run the console? Show em whats up Kiets!
SO what the latest of the rest of the forum crew? We know Storm did well but is out. What about ninja, marble, geek, dul?
I forgot to tell you. I'm not there lol
[spoiler]So I watched zero's ARIA…Seriously? What was that? Where is the switching? Where are the more tricky mix-ups?
Keits said it himself "There is alot of untapped potential with switching." And I'm not seeing it. I mean zero clearly doesn't have much clue how to use bass body like sleep. They both just seem to crumble when in that body. I don't get it. I'm just so disappointed…
Nicki vs swordsmen, swordsmen coulda had him clean. Couple critical drops, but I want to know why burnout legs? Was it to put the hurt on teleports more? And he needs to put out counter breakers more. I don't think he even attempted one. Nicki was just burning meter like it was going out of style. He could have ran a train wreck on him. Fulgore struggles without meter. And he kept getting caught by his overhead.
[/spoiler]
I missed the 1st set…who was it and results? NIcky and Lygar on now.
OMG!! WOW what a come back in that 1st match…whooooo!!
That was sick!!! Were are you guys? Its tied up!!
[spoiler]Wow…a complete 3-0 shutdown (and convincingly) against nicki. That wasn't a nail biter…damn man. thompson made fulgore look bottom tier.

Lots of Counter breakers…
[/spoiler]
Was good, but i really dont like to see Arbiter on the screen…
I liked combo breaker more!