How fantastic do the old stages look with the new lighting? I'm in love with them! They look EPIC. im SO pleased with the new lighting! It actually makes the game looks SO much better. These are such a vast improvement look at the dynamic lighting!
BUT the big question comes… at what cost? We did ask for KI to be tied up and its what came TOP of my Season 3 wish list poll. This all takes time and lighting is a HUGE part of that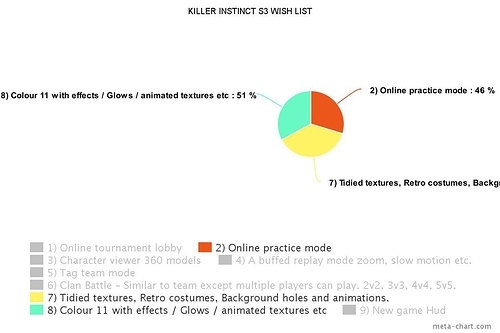 So the news comes that there are only 3 new stages and no ultimate's. The latter I was expecting but 3 stages I wasn't.
My problem with only 3 stages being in Killer Instinct Season 3 is that whatever characters come next will have far less personality, that's assuming they are new characters added to the Ki Lore?
Character backgrounds give a massive amounts of player expression, it sets their mood and makes them make sense within the Ki universe.
That being said there are only 3 killer instinct characters left. Kim wu, Gargos and tusk. We all know Eyedoll has been shelved due to him being near impossible to re-design.

That would mean to me that season 3 has a number of guest characters that might not require a stage.
For example would we really want a Rash background? I for one wouldn't know what to create for Rash to keep him sitting nicely into the KI feeling? Plus hes a guest right? Why would we fight on his turf?
With that is mind Arbiter's trailer tease really confused me… Thel seems to be on Sanghelious and seems to have his own background… unlike rash did.

HOWEVER Adam said perviously that guest characters will not be involved in the lore or story of KI. That pretty much removes the need for a background stage? We also know from devs that back grounds is the second most time and money consuming part of making Killer Instinct so could this make sense?
For now it's all guessing we can only speculate but my guess is that we will get way more guests than we think.
For me following Street Fighter doesn't make any sense though in terms of content. Character stages and music ARE luxuries but they build so much hype and they build the connection we have to our mains or to those characters who we have loved for decades. SF2 back grounds were so iconic just like Kis are now. They helped to build the hype and connection to some of Capcoms most strongest characters.
1990s VS 2000s
No love for these at all. All have the SF4 stages have the personality and character build of a wet fish! lol. they Add no nothing!
Sf5's: a few backgrounds fit all to me is one of the reasons I wasn't compelled to buy a PS4 for the new game. With little to no story? Weak back grounds and missable themes the new guys just didn't stand out for me.
Yes I know this is the only area KI excelled in. Character theme and dynamic music coupled with personal tailor made stages. Not many other fighters have done that recently and hats off to KI for putting so much time and music into it.
Sometimes it might seem this content goes un noticed by press but its what hooks us for life. Its the small fan fictions and details that made the halo universe so strong and evolving.
I understand IG and MS are working hard to clean up KIs rough edges and I know whatever they are doing will make sense when we have all information but this kind of news is* disappointing* to me.
Yes game play is important while you play the game but the style, music and mood thats created to support it is what captures us for life, and generates the level of fan art that has made Street Fighter so strong over the years.
Its also kinda why the hardcore demanded a sky top stage for the last 18 years? lol YES we are boring but we are inspired. Its things like this that has kept us waiting and wanting Killer Instinct and its these things what have kept us life long fans.
I'm sure the developers understand the model we have invested in previously and yes of course we are set in our ways in terms expectations on content and the way it's delivered.
My guess is season 3 isn't going to be what we are expecting. With this bomb dropped and the hint of less characters this season I'm betting there's going to be "lots of new ways to play KI" as said by Adam id put my money on some of this dev time being spent on modes.
We have to remember MS and IG cant spill the beans yet! So all we hear is NO and SORRY but we have no clue what other amazing thing are ready to show!
EDIT: MAYBE invaded OLD stages could be a thing?