I will play all of them! LOL Character ADHD won't let me play just one!

Wow.
He's kinda hot, not gonna lie.
You need to stop teasing us, because we need to wait a week now. This forum has plenty of salt already, we don't need it in our wounds too!
That's actually funnier than you think…I'll tell you why someday

Yeah his stage looks cool but his design. I don't know, from what I saw I wasn't impressed. Hopefully it looks better in the final build but so far his face will be the redeeming factor for me because so far he looks as generic as He-man.
Anyways, I made a reaction video thread a long time ago. Put you're videos there.
[URL=http://s921.photobucket.com/user/13MATTallica96/media/heavy%20wat.jpg.html]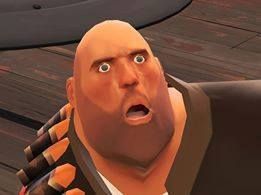 [/URL]
#####I can't breathe
Never cared for this character. Cool that is coming for the people that wanted him, though.
Was not expecting the Viking look with big sword (and that ship, wtf) given Adam I's remarks about his redesign.
LOL Did you guys leave out his face on purpose? I just got 2 texts from my friends saying they wanted face shots. XD
Oh come on! You can't leave me hanging!
Tusk…
TUSK!!!
DAH!!!
I almost jump out of my chair (I'm at work)! HOLY ■■■■! I'm HYPE!
coughTEASEcough
Just enough to know what's going on, but not the full reveal!
Hmm, Mayas sister looks kind off buff and manly.
Nice!
My first thought was "OMG, did they add weather variations to the current stages (Spinals)?!" but I quickly learned that was not the case. It is nice to see another snow stage though, I know people have been requesting it. I wonder how intense the weather FX will get. The lighting looks nice as well, something bright and cold for a change.
His kilt…I wonder if Spinal stole it at some point? Looks very similar.
Well done guys. I know it's a small tease and we can't see his complete design, but so far so good.
Can't wait to see his Retro design and accessories.
Thanks for the tease!
I'm amazed they got away with the Teen rating, too, since she looks to be topless. FREEDOM!
Your friends sound kinda lewd
Calling this now, Aurora Borealis during an Ultra, if not the third round.
Brkfgeiendowidgrbjcgrjdgekanxkaooqhdgyrotkcnhvkfheittsndkdbfjjfbjtbfhowkowpqooppeknbfnjchyfktmslmsne
TUSK IS BAAAAAACCCCCCKKKKKK!!!hfkfkaks,dhfirtqlzmcnq
LOL I'm Scared right now. I'm hype about Tusk, then I get 2 messages:
"OMG DUDE TUSK IS HERE! YES! I wish I could have saw his face…"
(From A female friend)
"My main is back! AND HE'S HOT OMG WHY NO FACE!?"
I'm like "ok…Wait until S3.

"
Can his taunt just be him yelling "DAH"