Cool, although it looks like they omitted some details such as the cyber-arms and his being knowledgeable with arcane magics.
This is going to be one heck of a fight. I hope Sabrewulf wins. But no matter the outcome Talbane will still be one of my favorite darkstalker characters. But I'm going with team sabrewulf for this one.
I have seen death battle with some of favs losing in the process.
Riptor
Glacius
Bowser
Luigi
Leonardo
Jotaro
Knuckles
Sabrewulf
But I also had victors.
Blanka
Godzilla
Blastoise
Mechagodzilla
Sub-Zero
Zero (Megaman X)
They don't tell you everything in the previews.
Fair enough. I hope some of Sabrewulf's combo specials are referenced such as that special where he howls, producing these blue flames that juggles the opponent off the ground.
Oh, come on- everyone knows that Yoshi could beat Riptor anytime and in any situation because Yoshi is made of yarn, can toss eggs, and can turn into a helicopter. Can Riptor turn into a helicopter? No? Case closed.

-Zenek
True, So I think if they ever redo Riptor, they should pit her against someone else.
Like Alex, or Reptile, or even Aeon.
Overall another all-new Death Battle match-up between Sabrewulf of Killer Instinct and Jon Talbain of Darkstalkers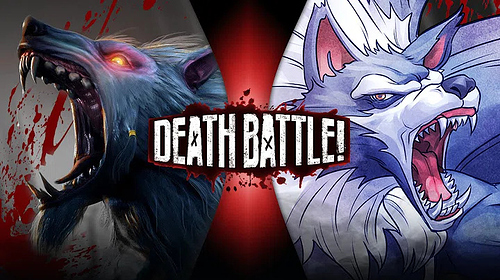 Just a head's up that Sabrewulf slaughters whats-his-face on November 1st as a post-Halloween treat. Stay tuned…

-Zenek
Reminder is on for that vid.
SPOILERS
Sabrewulf is a crappy werewolf because he can't lift Egypt.
End Spoilers
-Zenek
The battle was cool, but man I'm disappointed they didn't reference Sabrewulf's other moves such as his Sabre Fireball.
Sabrewulf's moves are at 15:46:
Spoilers
All 3 of my mains have lost.
Same. Only Fulgore seems to have made it out unscratched.
You and my brother are fortunate enough that he did win.