Alright, I'm by no means an artist and I used some help from @oDragonSpirit getting the clothing down to what I described, but it doesn't seem like it is there yet.
My concept design is of myself as the Tiger Spirit resembling a warrior monk (basically Jago) in a 80's theme fashion. Hence the name, Retro Spirit.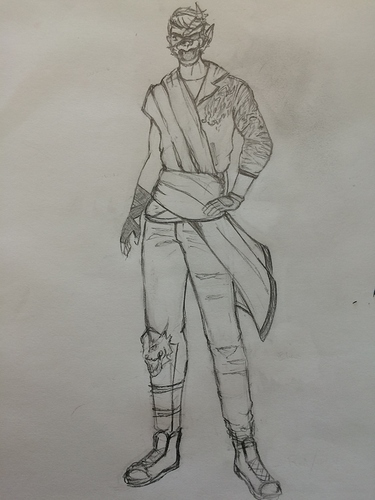 The idea started from listening to Eyedol's theme, but something more particular in his theme. That is the 80's retro sound. I started looking for music from the Blood Dragon ost and my biggest inspiration, Kung Fury.
Leather, vibrant color, ripped jeans, the works! But, I don't want it to copy Kung Fury. Rather, I want it to reflect both the Warrior Monk and the Retro era of the 80s.
---
So I was wondering if I could get some ideas, suggestions or anything that comes to mind to help me add/change things to fit the retro theme. Anything helps!
Edit: Calling out artist I know from memory, @Crainiak24, @RTA07 and @Ravan86