UPDATED
with the new forums active, i thought i'd repost my idea for a character.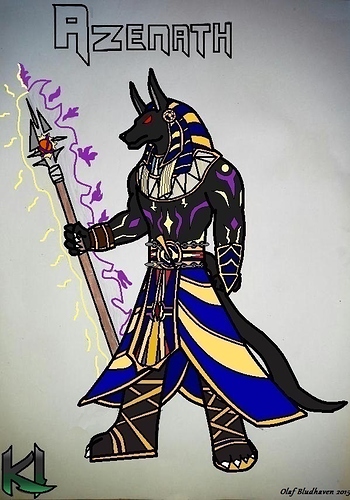 In the lore, Azenath was a pharaoh in ancient egypt with a lust for power, studying and creating forms of Black Magic, he used this power and abused it to rule over his people with an iron fist.
Desiring more power, he had his people build him a pyramid with a magical Siphon that would store magical energy for him to absorb, but even this was not enough, he was still aware of his mortality, no matter how much magic he had, so he began researching on holy artifacts hoping to find a way to ascend to Godhood, in his twilight years he finally found the location of a known holy weapon, the Spear of Destiny.
He ordered his people to find it and retrieve it so he could utilize the magic imbued in the spear in hopes to gain godly immortality, when his people returned with the spear, decades of abuse from their king had taken its toll, they used the spear to impale Azenath to his throne.
This was their undoing, with the blood of divines stained on the Spear now coursing through his system, Azenath absorbed the holy magic and took the spear, with the combination of his black magic and the godly magic, his mind became twisted as well as his power, he slaughtered the betrayers, and then assumed a form "worthy of a god", the form of Anubis, with magic runes on his skin, glowing with both holy and black magic.
Azenaths desire to rule grew with his newfound power, he used his magic to lift his Pyramid to float above the earth, away from mankind and in the heavens, where he believed he belonged as a God.
but soon, Azenath learned of a warlord who yearned for control of the world he believed he was destined to Rule, he would build an Army and meet this "Gargos" in battle.
…to be continued.
His playstyle would be very Chaotic with his magic, he could create portal traps that can recapture the opponent, as well as being able to use them himself to quickly teleport to that spot, he can create blades of pure light energy or dark energy from his spear, and able to give him temporary buffs, but due to the chaotic nature of his power, doing so also gives him a temporary nerf (similar to Shulk in ssb)
Combo Trait: Light and Darkness
Azenaths combo trait gives him access to an alternate type of Shadow move, during the start-up of a Shadow move, if you HOLD DOWN two punches/kicks, instead of emitting shadow, he will gleam with Light and perform an alternate varient of whatever Shadow move you attempt. Difference between Shadow and Light moves, SHADOW moves are more chaotic and have a harder rhythm to break, but do minuscule amounts of damage, these moves are good for attempting to lock out your opponent, LIGHT moves do much greater damage, but at the cost of being easily breakable, about as easy as Sabrewulfs Shadow Leaping Slash.
Instinct Mode: My Destiny
In instinct, the magic runes on his body glow brightly, and all of his magic powers (portals, etheral blades, and teleportation) are increased, the blades reach are longer, the portals are wider, and he can special cancel his teleportation, but with a downside, when his instinct depletes, hes given 6 seconds of even smaller blades, smaller portals, and more recovery frames on teleport.
Intro Quote: You dare provoke me?..you're either brave, or foolish…
Outro Quote: When a God speaks…Heed him! throws spear into opponent
thoughts?