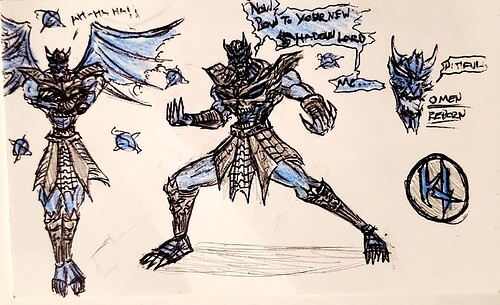 A potential Alternate Costume sketch for Omen, or possible idea for a redesign for a future sequel.
I was basically going for a "What if Scenerio, where once Gargos was defeated, Omen decided to take his place as the Great Shadow Lord, possibly giving him more power as a result, turning the once loyal henchmen into a evil tyrant of ultimate power, left over from his own master. Just something to really flesh the giy put, rather then just being a mindless minion. If anything, if a sequel ever did happen, I'd be all for this change, maybe even giving him the spotlight of being a potential main villain/Boss type.
Plus, if Spinals redesign from the reboot taught me anything, if your character is practically naked, putting any kind of cloths on them automatically makes them more interesting, design wise.