I wanted to make this thread in consideration of the recent KI Ultra Tour event in New York for providing constructive feedback for Microsoft and crew for the next tournament, should it occur.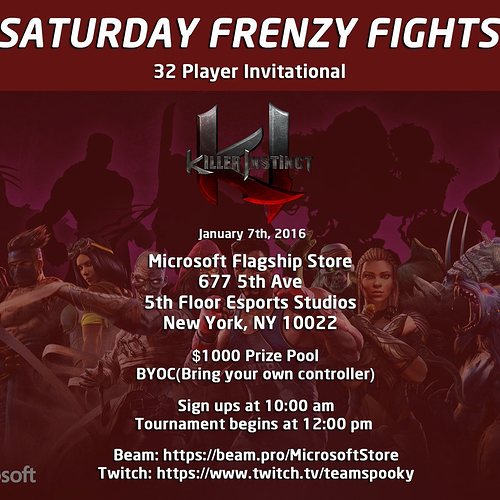 Venue (Online Viewer Perspective)
I really liked the look to the venue. Significantly different that what I've seen and from what I can guesstimate, fairly cozy as well.
Production looked significantly stacked. A commentator's booth, cool viewer perspective of the employees in the background (personally find this cool), looks like a cozy audience area as well. I really liked the camera view of the players in front of their station. That is an original look I have not seen and it certainly is welcomed in my book.
Commentary
With respect to the commentators Connor (Conf1ictz) and Arturo (NYCFurby), I thought that these two had a bit of a rocky start.
Granted, Arturo had started playing the game (per his words during breaks and during commentary) last week, it makes sense it could take a little bit for him to get comfortable with the game's quirks, but I'd say he started having fun with the commentary midway through the first round of matches. He had some help from the guide (IIRC) through Infil, which is good that he has gone out of his way to provide information from the guide to us.
Connor, I'd say, also would have a rocky start at the beginning. I'm not sure how knowledgeable he was about the game or how much he has played it before, but it showed a little. Again, like Arturo, midway through the round of matches, you could see a shift into having fun with the commentary and enjoying the experience, which is good! "The Roadster" (a.k.a - Rash's Turbo Tunnel Speed Bike) might be the next KI reference to be used in commentary as we know it, it was a good kind of funny that I liked.
I really appreciate the good honest effort guys, as matches continued and it got into Top 8 territory, you guys appeared to be having fun with the game, the commentary, and the matches as I listened. I do hope if you two are on commentary again, to continue the trend of enjoying it while also providing the viewers a good amount of game knowledge as well.
I also hope you two get into the game more.
After Match Interviews
A (welcomed) first for Killer Instinct tournaments, outside of the KI Cup (I believe). I liked how Jess was very professional with each match's respective winner and looked to broadened her set of questions as play continued. I always enjoy hearing the perspective of competitors and their methods of how they deciphered their opponent's methods which enabled them to achieve success. In addition, taking points from the Beam/Twitch chat and asking questions of the players from that as well.
Game Overlays, Broadcast Issues
A little over a handful of times, the broadcast had a bit of issues with deciphering which player was whom. After it was determined that the person on of the left side of the screen was player two, and vise-versa, it was corrected. I'd ask the next time we have an event like this that the respective Microsoft Store knows which player is on which side (P1, P2), so we, the viewer, and the commentators, know which player is playing which character, and so on and so forth.
Small little audio desync/off queue a little bit, but easily correctable.
I'm not sure how I felt watching a game view of the action, in addition to the players duking it out. A camera view of the player is a welcomed attempt at trying something different for sure, but is it the right thing for a KI viewing experience? It's a new one that we haven't quite done before so I'd be open to whomever else watched and wants to voice their opinion on it. We're very accustomed to seeing the entire screen more so than the players.
Character Promos
PLEASE CONTINUE TO DO THIS.
This is a very good thing to include in your breaks of watches matches. Character backgrounds are a good thing to know in addition to information about how they play. It's something we saw at KI World Cup last year, but haven't seen anything since. It gives newcomers a look at characters they have not played or of the like.
---
TL;DR - Great production with its fair share of hiccups every now and then, easily correctable for the next one (should it happen). Good viewing experience. Rough start for commentators, but they found their groove as the tournament continued. Be open to local commentary talent.
P.S. - PLEASE DO THESE TOURNAMENTS MORE.
P.S.S. - Archive Link