Good Morning everyone, Nualpha here.
One thing that I've noticed while playing online in KI is that there is a lack of being able to search for, and choose specific lobbies. The way the system is currently programmed is that you input a search criteria which then randomly places you in a lobby. The lobbies we enter may or may not be suited to our current level, but more importantly what makes this current system somewhat bad is that not everyone plays online consistently.
What this means is that, say a tournament player's rank is low due to them spending more time training offline, they are now randomly placed into a lobby where they're grouped with the same ranked players but are way above them based on experience, etc. This results in a divide in strength which may lead to a poor online experience both for the experienced player, and the new player.
While this feature may be good for some, KI is now becoming a fast growing game within the community and more functionality should be implemented to compliment this. A great example is the SF lobby system, where you're able to input your criteria but are able to choose from an assortment of lobbies in a lounge type format.
Here is an example: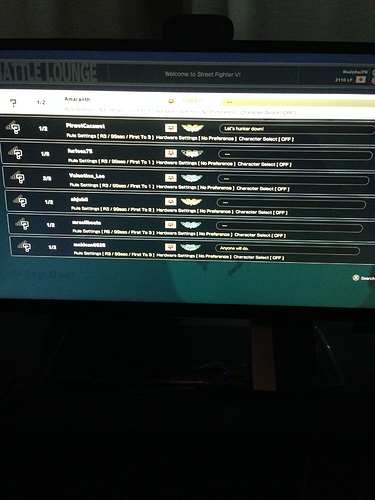 KI should implement this type of system so therefore there is more freedom with regards to what room we want, but more importantly for streamers. If a streamer makes a lobby and asks everyone to join, because of the current system in place it prevents a smooth process because, the streamer would need to add these viewers to their xbox live list, then invite them. If KI were to add this function, all a player would need to do is just find the username among a list of other rooms, then hop right in thus preventing a large list of friends on your friends list.
It's very tedious and quite frankly really dated, so I think if KI added in this feature it would really help to create a great online environment, especially streaming, online tournaments and casual sets! Furthermore, it would be extremely easier to find the people you want to play with, so for example if FiyahLiger creates a room, he could have specific requirements to allow people in (killer players only, etc) which would allow the host of the lobby to be more in control of who enters and who leaves.
This is a very strong selling point that could really catapult KI into the upper echelons of online play!
FatalDMG/NualphaJPN