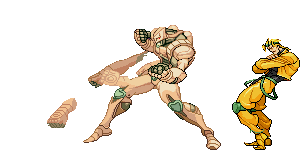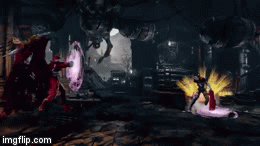 ---
That's why I really like new Gargos! He's AWESOME!!
Don't kill me but who is that?
Personally the move reminded me DBZ.
its dio form jo-jo bizarre adventure
That man is Dio from "JoJo's Bizarre Adventure" series. He always shout out "MUDA MUDA MUDA MUDA!" when he punches his enemy!

MUDAMUDAMUDAMUDAMUDAAAA! ZA WARUDO! Wrrryyyyy
I'm sorry, but you all have Gargos mixed up with the 2 greatests of all time.
I love how he utilizes portals to attack people, I always thought that was cool af. I want to say ever since I saw Janemba from DB do it as a kid. Then MKX had Qaun Chi do something similar in one of his variations, and now Lord Gargos can do it. Awesome

Irrelevant. Dio hitting a vehicle to make it explode isn't even the same thing. It definitely doesn't make it better than the classic that is Kenshiro and the goddess that is Makoto Nanaya!
His sideways rush attack looks like M.Bison too. PSYCHO CRUSHER!
Quan Chi+Kenshiro fists+Raoh attitude+Bison+Firebrand+Noob Saibot+Juggernaut+Relius/Carl Clover puppeter skills= YOUR NEW GOD
This post got so MANLY XD
Oh well, I was try to find Dio's MUDA MUDA finishing video. But I can't find it… This video is awesome!

His shadow grab reminds me of Noob's Ex Teleport grab.
Here's a suggestion and you guys should se eif it works: Both Gargos should put on stone skin and do their shadow oblivan standing a close range.
Let's see what happsn
I was too. Let me know when you do lol
I like the way you think xD
Keits literally yells ORA ORA ORA ORA when he does the move