[UPDATE - Sept 9, 2015]
phew the final concept art is complete~!!! Had a lot of fun working on this concept until I hit a road block from the details since it is still out of my comfort zone. (No really, how do you digital painters do this? Idon'teven @_@)
The attempt I went for is an early-mid 20's (around 23-25) street brawler and protector who looks badass yet graceful like some modern 'Kung Fu Princess' in her appearance since she might come from a wealthy family. Most importantly…
PANTS!!!
Would be awesome if she's the only female character who will be rocking pants as a default costume since the other female characters (minus ARIA) either wear shorts or combat underwear (forgot the exact name)
Another wild guess is that I definitely see Kim being somewhat of a tomboy due to her overall looks and fighting style inspired to Bruce Lee and the martial arts of Jeet Kune Do.
With her hair I wanted to give her a bit of an edge by adding red highlight streaks at the front, and have a gradient shade at the back of her hair to give it this nice flame effect when her hair is tied up (the darker colour remains dark red). Her hair gives a wavy type look to it as well near the ends of her hair like the first image below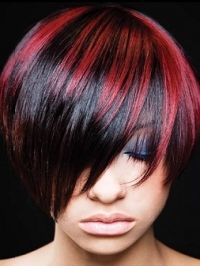 I've wanted to give Kim this sacred royal crown as an accessory that was potentially worn and passed on from her past ancestors. (Not sure what details to add on it) Looks something like these
But yeah, overall I'm about 85% satisfied with her overall appearance. Just feel there could be a lot more work with the details since some areas still looks incomplete. At the same time I didn't want to overdue the design.
---
EXTRA(s)
Here's an old pic that I worked on last year with the other Kim Wus (made by different artists) but haven't finished it. Let me know if you guys want me to work on this Illustration again including the updated kim wu fanarts~ I'll also include who the design belongs to as well.
---
Here are the older attempts made back in the older forums:
Previous Attempt(s)
---
You can check out more of my older concepts on tumblr page: http://rzstudio.tumblr.com/