Now that we've seen Tusk's new face, I'm curious to know the community's reaction.
Remember, this is about his face only.
I'm not interested in Tusk and his new face looks bad/wrong.
I'm not interested in Tusk but I think he looks fine (or will when polished).
I've always loved Tusk and I think they knocked it out of the park. His face is just fine (or will be when polished).
I've always loved Tusk but this new face is not Tusk. I feel disappointed.
I'm not here to pick on IG. Perhaps my expectations as a die hard Tusk fan were too high. I don't feel like they were though. My hopes weren't specific. Young and dark eyed. That was all I needed.
I personally love his body and outfit. They are perfect. The teaser had me REALLY excited. My heart sank the moment I saw his pale-eyed, old man face.
It seems like what happened was:
The team decided to go with a Viking theme for Tusk. That's fine. It's a fun character trope we haven't seen yet. And so they got so excited and carried away with making this character look just like a really cool Viking… that they forgot to make Tusk while they were at it.
I've been wanting this character since the game launched. I'm concerned we may never really get him. All we'll get is some super muscled, blue-eyed old man with Tusk's move-set.
Somehow this: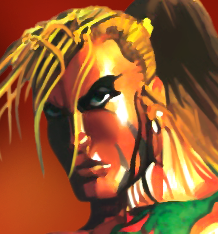 Became this: