Did anyone else see this when it came out?
Good prediction or did they know?
I did not here until now. Or perhaps a mixture of BOTH?

And not bad, not bad at all too

Well I mean the only reason Rash made it into the game was due to fan demand, so the fact some fans whipped up a fake teaser should be no surprise. That's just how badly some of us wanted him.
Nah, Microsoft has a bigger agenda. A new Battletoads game is coming.
Lol, but no one demanded rash. People didnt even want guest characters. In fact the fake leak picture with rash on it was only made because Phil spencer was strongly hinting that Battletoads would be back.
What?? Rash was heavily requested, there's a ton of fan art and fake images of a battletoad in KI out there, not just the one phil tweeted out.
You must not have been around much, a "Battletoad" was the most heavily demanded guest character. People all over asked for it, posted thread after thread on the forums. Every time someone would post about it the naysayers would totally come in and take a crap on their thread but nevertheless MANY people begged for a Battletoads guest character.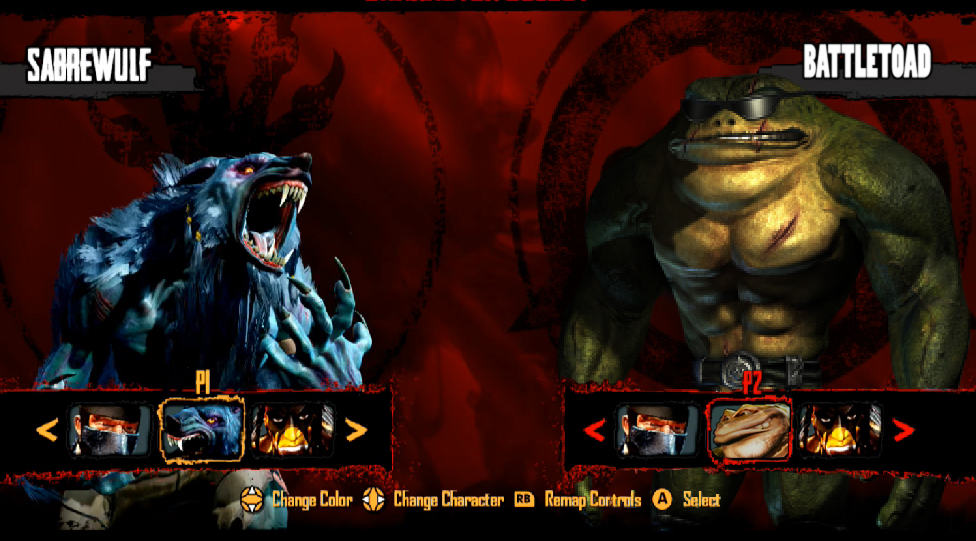 People have been wanting Battletoads in KI for a looong time.
Looking at this UI it looks like this Rash mock-up actually predates the release of S1
And that more serious-looking Rash beats the snot out of the 1 I saw in-game; I like it and don't understand why we can't have that version in-game.
It shows how longer the KI community were asking for a battletoad in the game.
This is true. Ever since the first season was in development people were asking for a battle-toad. I personally wasn't up for any of that but to be honest it happend anyway and no point in getting mad about it now. But hopefully we only get ONE more guest after this. I think it's safe to say we can expect at least two in total of what we have with the roster.
Safe to assume it would please Rash's fans, or at least a good number of them. Being a guest he has to stick out from the group. not only that but stylistcally it keeps who he is as a character. someone that any fan of Battle toad would recognize.
I don't think other guests have to worry too much about that. But to put it in perspective. taking a character you love from another game that you'd love and instead of retaining what made that character so fun and recognizeable in their game and changing everything that doesn't fit with KI to make it fit. The only thing that makes this character even remotely recognizable as a frog with glasses, but he doesn't seem to have the charm I think some Battle-Toad fans would of liked.
That wouldn't really make people very happy. I'll agree that Rash is cartoony and very goofy but that's how he is as a character in own franchise.
That's what people who enjoyed Battle-Toads liked about him. He's a guest character so that doesn't bother me so much that he's not super-serial.
I was here since the Double Helix forums started. I know what am saying when I say there was more out cry for no guest characters than for them.
Yes there were BT images and they all started as soon as hints of a new BT were going around.
I wasn't trying to imply that there were more people betting for guest characters than against them, I was saying that among the people who desired them a Battletoads character was the most requested.