Seeing how Ultratech plays a big role in Killer Instinct's story, what if they dedicated a whole costume inspired by their shady work? By capturing one of the established characters, and fully modifying them to where they look and sound like a new character, but they're just a skin setting for a normal fighter. Think of it like how Netherealm does with MKX's Hanzo Hasashi or Injustice's John Stewart.
The character that I think would be a good start, it's Jago.
A sketch representing this idea.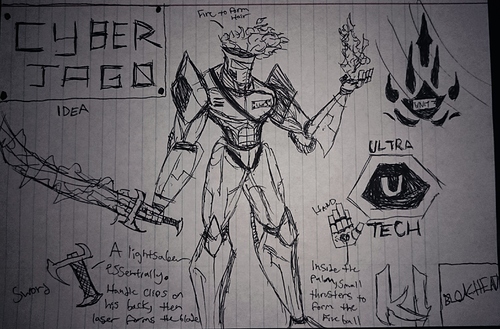 I mean since Season 3 is technically over with, but more updates are due to come supposedly, giving a special costume to players could be a neat way to hold us off until the next project arrives, and could be a decent place holder for no 9th character. In fact, since Shadow Jago doesn't have a Retro skin, why not go for this instead? Replacing all the Shadow auroua engulfing him, instead its a cyberspace like grid, and his voice being more artificial whenever he talks.
If not for this KI, maybe for the possible sequel? What do you think of the concept