Hey everyone!
With a flood of new players pouring into Killer Instinct this year via Game Pass and the Xbox on Android test, there's something I'd REALLY like to see: 28 more Color Packs!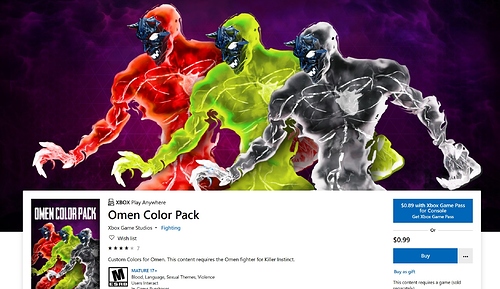 In a nutshell, Omen is the only fighter with a Color Pack, it contains 3 exclusive colors, and it's available for just $1- or a little less if you own Xbox Game Pass (And you can't buy it with KI's Gold currency!)
While the game's engine seems to be uncooperative when it comes to adding new accessories, and new Ultras and a 30th fighter seem extremely unlikely, I would LOVE to show my ongoing support for Killer Instinct by buying some all-new Color Packs for my favorite fighters.
Think about it- new players who fall in love with the game may buy a Color Pack or two for their mains, while hardcore fans like us will likely buy all $28 worth of new content to deck out our entire casts, while reminding Xbox Game Studios how much we still love KI.
I wonder if Xbox Game Studios would be interested in commissioning Iron Galaxy to return to make 28 more Color Packs? I'd love to see some wild new Riptor Color Pack, and it'd be awesome to see old friends and new rivals sporting fresh colors for beloved fighters. Who knows? If the KI Community buys into the Color Packs, we'd begin to see a bigger return on the #BringBackKI campaign than an admittedly awesome Twitter storm…
Fight on,
-Zenek