Funny thing, I was just looking at the Season 3 pricing post, and noticed that KI1 and KI2 were rated 'M' by the ESRB. Now that doesn't seem weird at first, seeing as those games did have some pretty violent things in them…but were they always rated 'M'?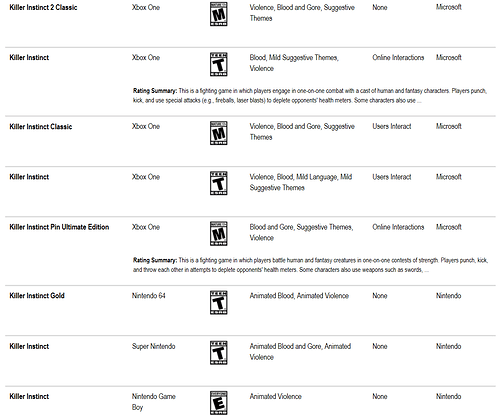 http://www.esrb.org/ratings/search.aspx?from=home&titleOrPublisher=killer%20instinct
KI back on the SNES and N64 were rated 'T' for Teen…just like KI 2013 is now. That IS weird IMO.
Not sure if this has been pointed out before, I sort of think it was talked about back on the old forums, but I just though it was a funny "fact of the matter" type of thing.
Now, I know that MS has stated that they don't want to make KI an 'M' rated game, but could MS push the 'T' rating further if they wanted to? Or has the ratings scale in such a way over the years, that what may have been considered 'PG' back in the day, is now considered 'PG-13' or 'R' now?