I have no clue what this is about, and i did not text them, but be on the look out for this.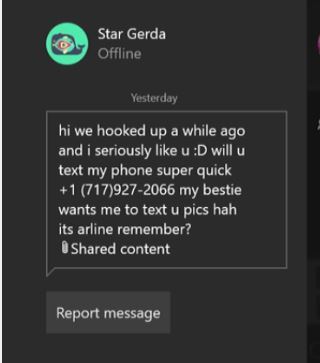 I have no clue how text scams work, but i would not recommend interacting with these people.
The profile is fake. 0 Gamer Score.
I searched the phone number, and i found that it is a "reported" number. Dont know what that means, but it dont sound good.
#Heres where things get strange!
The "Shared Content"…
Was a Clip by UL ZergKiller!
Again, i have no clue what it means, Maybe it was a thorough attempt to pretend like she is a mutual friend of mine and Zerg's, but be careful.
Any idea what i can do to help? (other than report the message?)
@TempusChaoti Would it be too crazy to think that maybe you could help with this? Push a console ban or something?