Yo everyone, Raven Manuel here.
And it's time that I get to inform the KI community how i'm doing so far.
First this is that i thank god for the opportunity of allowing me to stand up once more after i was burglarized, i got into depression and kinda drifted away from everything.
i bought a dell optiplex 780 mt to start working from home, i was doing it so far so good.
Then i was doing some investigations on how to build a gaming pc that can play KI without murdering my pockets, after some weeks of research; I noticed that my dell is a LGA 775 that supports DDR3 at 1333 mhz and it came with a intel core 2 quad Q9400 @ 2.66 2.67 ghz.
Then I saw this little bad boy

Graphics Engine NVIDIA GeForce GTX 750
Bus Standard PCI Express x16 3.0
Memory Type GDDR5
Memory Size (MB) 2048
128-bit memory interface
Core Clock Speed ​​(MHz) 1059 (Boost Clock: 1137)
Memory Clock Speed ​​(MHz) 5000
1 DVI (Dual-link DVI-D) Output
D-SUB output 1
1 output HDMI (version 1.4a)
HDCP support
HDMI support
Dual-link DVI
Display Output (Max Resolution) 2560x1600
RAMDACs 400
Supported version of DirectX 11.2 API (feature 11_0)
Supported OpenGL version 4.4
Card Dimensions (mm) 165 x 111 x 33mm
weight 290
Fansink Cooling System
After successfully installing Windows 10, I noticed that this old pc has become some sort of a gaming pc, and i wanted to know how it could handle KI on default settings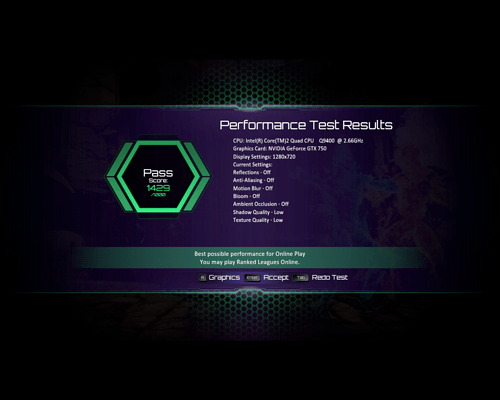 I guess i was kinda pleased with the results, all i need to do is to wait till tomorrow so i can receive my xbox one control and hop in to play KI once more time.
But this pc will do until i get back on my feet economically speaking, then i'll buy my things one at a time.