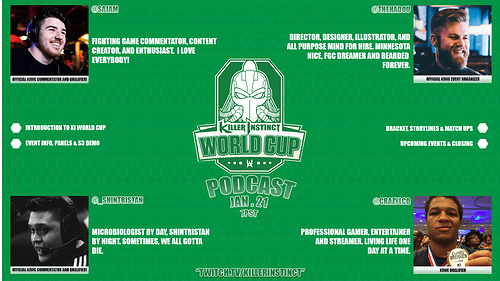 Happy to announce that ShinTristan, TheHadou, Sajam along with myself will be hosting a special Pre-Killer Instinct World Cup podcast next Thursday, January 21st 2016 starting at 7pm PST or 10pm for east coast residents.
The topics as highlighted on the promotional card include covering the KIWC itself explaining what it is, how it came to be, and whats' at stake. We will also cover everything that will be available to experience while attending as well as discuss the official bracket, character and player match ups and storylines that were built from throughout the year. We hope to give everyone an entertaining show featuring some of the most knowledgeable personalities in the KI community.
Will be Streaming on the official Killer Instinct channel at Twitch.tv/KillerInstinct
Please spread the word and see you there!