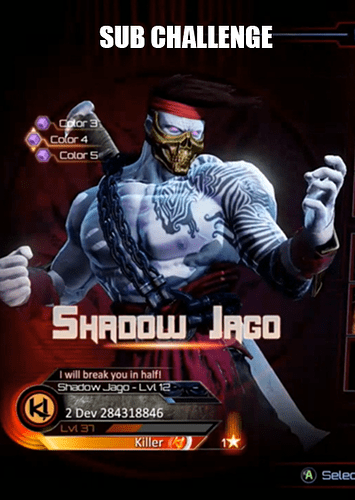 Some of you may remember that all throughout Season 2 a lovely family man by the name of @CStyles45 had an awesome idea to bring hype to all the new characters being released one by one. The challenge revolved around entering the contest by subbing to his channel and then you taking the brand new character that was released at the time for example Sako, and trying to beat his main in a first to 3; in his case KanRa. If you were able to successfully beat him you would win part of the $$$ POT. As players continued to fail, generous people would donate more and more money to make things interesting and I believe the highest pot got up over $1,000.
Cstyles has bestowed upon LCD the ability to carry on his legacy for the Shadow Jago release. If you want your chance to earn some cash and bring hype to the KI community then read below to see how this all works.
OVERVIEW
In order for those who wish to participate and have their chance at winning part (or all) of the pot, they must first Subscribe to LCD's Twitch channel which is $4.99. Think of it as a raffle where you are paying a small fee to try and win a much bigger prize. Cstyles did the same thing and his channel was supported because of it as well. After subscribing they may then step up and have their hand at trying to defeat LCD's main character (Maya) in a first to 3 set. If they are successful they are now qualified to walk away with some of the pot funds. If multiple people win, then the pot is split among the winners; but if no one wins the pot stays until there is a winner. The pot starts out at $40 provided by myself, and for those who wish to be generous and help increase the pot may do so. Like I said before, there were tons of donations the last time Cstyles did this and the pot went over $1000 all of which went directly to the winners of the contest and not a single penny goes to the streamer.
That about covers it ladies and gentleman. The contest begins on launch day of Shadow Jago in the afternoon starting 12:30pm PST DEC 4th. I have also taken the liberty of providing a little Q&A just in case you all had any unanswered questions after reading all of this.
---
Q: Why must I pay $4.99 to participate?
A: This was started by Cstyles45, it was a way for him to help grow his channel get some subscribers to provide more emotes to his followers. Paying $5 for a chance to win a much bigger prize is totally worth it and also helps out LCD get to the Killer Instinct world cup as well has support his channel too.
Q: Why is LCD doing this and not Cstyles?
A: Cstyles recently was married and has become a full time family man. He also recently sold his house and has informed me he will not be available to handle the contest this time around but will be back in full swing when Season 3 starts when he will continue the challenge himself with new characters.
Q: How does the pot get bigger?
A: The pot will begin at $40 started by LCD, and will only get bigger if people donate to it. The idea here is to have the whole KI community come together and make things exciting. You never know who will walk away with the cash.
Q: What if someone wins?
A: If a player manages to best LCD then they are guaranteed to walk away with part of the pot. If no one else wins by the end of the stream then that single person takes the whole thing. If multiple people win then they share it 50/50 and so on.
Q: What if I don't have time to learn Shadow Jago?
A: That is the idea here. The intent of the challenge is that yes, the character is brand new and no one knows how to play him well or fight against him well; that is why it's so exciting to see who can win.
Q: Do IG and MS employees get to compete in this challenge?
A: No! That is cheating since they have probably played the character a lot before and would have an unfair advantage over others.
Q: What if no one wins the money by the end of the stream?
A: The money is kept safely for the next contest and will carry over when a new character is released.
---
I'll also have some Shadow Jago codes to giveaway so if you don't already own him the now is your chance.
http://www.Twitch.tv/GamerLCD
WINNERS - Rico Suave