History
In ancient Atlantis, the creatures used for tasks underwater, were the kind of Dorivan.
They were not born naturally, only the rulers of Atlantida controlled their procreation.
When the city crumbled and disappeared, only a few species of Dorivan survived. Over the centuries the remaining managed with difficulty to have some children to continue the species. But something was wrong with the genes, and every century, fewer and fewer were able to have children, and the species dwindles slowly.
In the last century, only Dorivan and a female were born. The two formed a couple and miraculously had a daughter. The species will continue for a while.
One day, her daughter very curious about the outside world, left the Hidden Lake where her parents are hiding, and is caught by local fishermen.
UltraTech buy this still living creature of fishermen and begins to study their DNA.
Dorivan tracks and attacks the laboratory of UltraTech to retrieve his daughter. But is arrested and subdued. Seeing the potential of a well-trained adult, UltraTech learn how to communicate and learn the story of Dorivan.
And both make an agreement, Dorivan should show its value against Gargos and if successful, UltraTech promises to use all their technology and create others of his kind. UltraTech also redeem their daughter and they can save their species from extinction.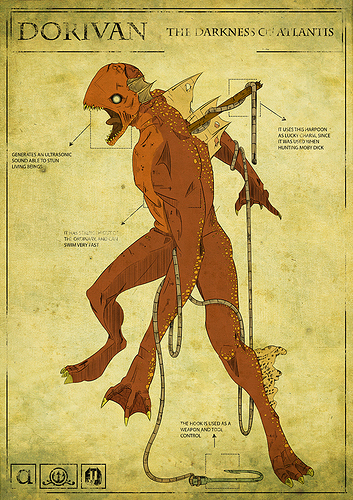 Design
Tribute obvious, the Creature from the Black Lagoon. With it, the vampire and Frankenstein woman they did earlier, KI's classic monsters are ready
It did following the idea of the classic monster, wanted something very close. But not a copy or the monster or the Darkstalkers Rikuo. I wanted something more serious and less caricaruta. I took references of Beyondness fish, after all is the nature of Dorivan hide to survive
Some details of the gameplay
The hook with the rope, is a kind of control. When the opponent is hooked, Dorivan can block or hinder some commands. For example, during a jump, the player who controls the hook can double-tap down and do the hooked "down" quickly, offsetting a jump. It can take two touches back, to create an involuntary dash at the opponent.
He has a supersonic cry that stuns the opponent, has short distances and can also destroy projectiles
During the instinct he can spit a poison spray that takes life by time, and that can not be defended, the poison Substitutes the supersonic attack. It is also a short distance attack and can not be defended, but it can be avoided, unless you are hooked and be pulled up from the spray

This is my idea for aquatic monster!
Feel free to suggest new ideas!