anyone else having problems? solutions? updates?
yup, suffering from the exact same issue, which really sucks because today was the day I decided to buy it. the problem has to be coming from the new update that just dropped.
out of curiosity. does it give you nul and ERROR messages instead of the price when you go to buy it?
yep, $ERROR to be exact…nil
Same problem here. Also chose to buy the game today.
Guess not…
which version of the game did u buy?
which version of the game did u buy? also 4 what platform?
Can you guys pass this along to the correct team members?
Glad I'm not the only person who can't purchase Supreme Edition. I'm tearing my hair out trying to make a purchase on Windows 10. I have KI installed on a brand new i7 6700k, 16gb ddr4, GTX 1080 PC. I can log into KI, I can get an online match, I can purchase KI coins but I cannot purchase any bundles. I see "nil" and "$error" under supreme edition and I cannot purchase any of the other bundles. I've made sure windows 10 and xbox account match in country and language. I've signed out and reset the windows store (wsreset). I've unintalled and re-installed KI. I created a new MS account and new Xbox account and I still CANNOT purchase the Supreme Edition or any bundle. Very frustrating, especially since I've been waiting for a black friday deal to pull the trigger on it.
ive been using the windows 10 version for about a week now, since i don't have a xbax one. i doubt xbox players get this error, since i don't even think the supreme version is available on console anymore.
yup, im not able to buy the supreme edition or any of the others. however the other bundle prices are displayed without the error message. when i hit enter to buy any of the bundles it simply does nothing, no windows store tab pops up. if i want to buy any bundle that isnt the supreme edition (which i dont) i can go to buy a character individually and then click buy on the bundle that corresponds with them and then the windows store will pop up. this method doesn't work for the supreme edition. also might be worth mentioning that i appear to be able to buy KI gold as well, why do that though when you can buy the supreme edition.
I wish they would at least make a statement regarding this issue… am i just wasting my time 4 something that will never come?? should i just buy the seasons individually?
Can you buy the seasons individually? I have the same problem as TremendousRexx I can see the prices for the other bundles but I can't purchase them.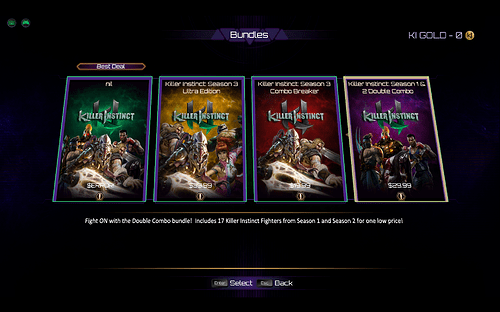 go to character, then buy them. a menu should show up with the bundles. can't get the $error one tho
someone in another thread mentioned that they are probably gearing up for a black friday or thanksgiving sale. i think thats the most likely scenario right now. kinda sucks that the devs haven't mentioned anything though. we have no way of knowing if they're screwing with us, or just broke something in the last patch.
Like everyone else it seems I tried to buy the supreme bundle last night/today. Cant buy the bundles individually either, even if I go through a character to the bundle screen.
right now I would wait for the PC release of the Definite Edition anyway. if you also wanna have Shadow Jago you save 20 bucks this way. the question though is when this will happen. the last offical news about this said this holiday season. so hopefully we get it in december.
Okay, so I just read on the forum that someone figured out a work around to nil $error/unable to purchase bundles and decided to try it myself and it sorta works. To do so you go into single player and select any character that is currently not free you will be greeted with a pop up menu letting you purchase the character or the associated bundle EXCEPT the Supreme bundle which is frustrating as that's the better value and the one I want.
WTF?!
If this is in preparation for a Definitive PC release why not remove the Supreme bundle completely from the store and save people a whole lot of frustration and time trying to purchase it. I'm going to re-install windows 10 now as this ordeal has completely changed settings on my PC that I can't undo. Thanks.
According to this article KI Definitive Edition as of right now doesn't work with windows 10 and no word when it ever will other than sometime during the holidays (before Xmas, after Xmas, New Year's, Valentine's, Easter, summer holidays, halloween)

Buy it from. The windows store microsoft website.
i would feel better if ppl from KI made a official statement on this. Idc if it takes till next year to get the version i want