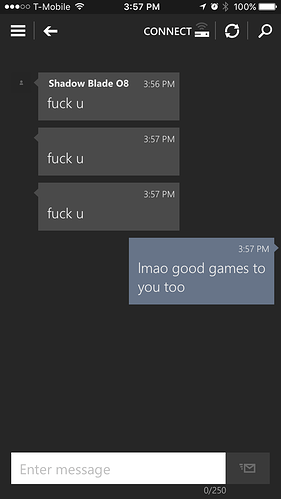 I wanted to start this topic to see if they can relate to this.
sometimes i just dont want to play serious. i know its ideal to spend time in the lab to learn a new character or test moves and such, (personally, i find the best training to be getting out there and seeing how people play.) but whenever im picking up a new character, or picking up a character i never touched, no matter what mode i pick, the other player wont give an inch.
its obviously not a game breaking issue but its just sad that even in exhibition mode people are super competative. if youre just going to play 1 match, spam jump heavy, taunt if you win, then dip, why arent you doing ranked?
Then of coarse when i beat them i get messages like these.
i thought the point of exhibitions was to be casual but ironically, i find a majority of players being super competative. I know i could make a lobby but nobody ever joins them and even if they did, i still get issues from time to time with the lobbies.
Maybe this is only an issue for me since i never play locally or privately ;-;
but it would still be cool if there was a new mode or something or maybe just a bit more love for lobby mode.
i put this as general discussion because its not a high priority issue, just want to see if im the only one.