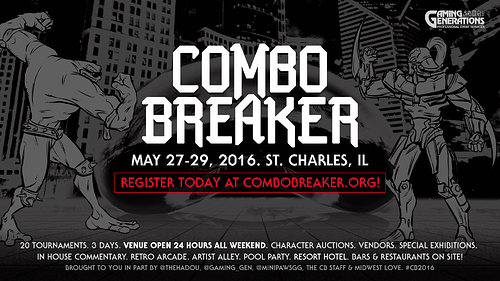 COMBO BREAKER 2016
at the Mega Center in St. Charles, IL!
Registration Open now at combobreaker.org/register
Contact: combobreakerevent@gmail.com
DATE: May 27-29, 2016
New 24/7 Venue:
The Mega Center at Pheasant Run Resort
4501 E Main St. St. Charles, IL 60174
Featuring 35,000 sq ft of space!
Check out the Official Trailer & more info about #CB2016 below:
RESORT FEATURES:
Newly renovated guest rooms
2 pools (including a special indoor/outdoor pool hybrid)
Full 18 hole golf course
Friday & Saturday night mock Bourbon St entertainment area
6 on site restaurants, including 2 bars & an ice cream shoppe
Culvers across the street. Additional food a half mile away (including Portillos!).
Giordano's pizza delivery with $2 off discount code "COMBO BREAKER"
BOOK YOUR STAY:
Learn all about our new venue the FREE shuttle we booked for your convenience (from O'Hare International Airport): http://combobreaker.org/newvenue/
Discounted King & Double rooms available at $115 a night.
All rooms include parking, resort fee, fridge, microwave, and high speed wi-fi.
Share with friends and your stay is $30 or less a night with full resort access.
Additional discounted room rates available for premium 2 story and whirlpool suites.
Other local area hotels linked to on Combo Breaker's venue page
REGISTRATION:
$40 until April 1, 2016.
$50 from April 1, 2016 to May 9, 2016.
Event schedule will be based on pre-registration numbers.
$80 on site Emergency Registration.
All tournaments are $10 per entry
Please save money by registering online.
Spectators may enjoy the event for free this year thanks to a generous contribution from Gaming Generations.
TOURNAMENTS:
All tournaments feature double elimination brackets
All tournaments may start as early as 1:00 PM on Friday the 27th.
All tournaments will see stream time.
Killer Instinct Season 3 (Xbox One)
Mortal Kombat XL (PS4) $10,000 Pot Bonus
Street Fighter V (PS4)
Ultra Street Fighter IV (PS4)
Guilty Gear Xrd Revelator (PS4)*
Skullgirls: 2nd Encore (PS4) $3,000 Pot Bonus
Super Smash Bros Melee (Gamecube)
Super Smash Bros Wii-U (Wii-U)
Tekken 7 (Arcade - PS4 controller compatible)
BlazBlue Chrono Phantamsa Extend (PS4)*
Persona 4 Arena Ultimax (PS3)*
Ultimate Marvel vs Capcom 3 (Xbox 360)
Under Night In-Birth EXE:Late (PS3)
Dead or Alive 5: Last Round (PS4)
Vampire Savior (Xbox 360)
King of Fighters XIII (Xbox 360)
King of Fighters 2002 Unlimited Match (Xbox 360)
Tekken 3 Ball (PS1)
Mystery Game Tournament (Various)
Special Brawlhalla tournament! $1,000 prize pool, FREE to enter! (PC)
ACTIVITIES:
24/7 Tournament Venue and Retro Arcade
Special Auction Tournament Events
Indie Game Showcase
Special Exhibitions
Artist Alley & Vendor Floor
Pool Party
more details at combobreaker.org/activities
CORE STAFF:
Our dedicated, multi-region event team includes
Richard Thiher (Event Organizer)
John Ladwig (Logistics & Vendor Relations)
Max Wasserman (Head of Brackets)
Andres Coll (Bracket Manager & Volunteer Director)
Daniel Rivera (Bracket Assistant)
Michael Hionis (Staging Logistics)
Caitlyn Thiher (Staff Manager)
James Cardoni (Chief of Staff)
Brandon Brockman (Stage Manager)
Punnha Nom (Floor Manager)
Robin Harn (Smash Tournament Manager)
Deshane Strong (Smash Floor Manager)
Mikey Rivera (Volunteer Manager)
John Amenta (Floor Hand)
Bryan Timm (Floor Hand)
Jon Chinnery (Floor Hand)
Robin Chinnery (Registration & Check-In)
Evan Bredendick (Web Development)
Nick Paldino (Statistics & Media Polling)
Alex Jebailey (Event consultant)
Adam Heart (Legacy consultant)
We are committed to creating a memorable experience for you. Please reach out with questions and ideas!
[ATTACH=full]11821[/ATTACH]