Alrighty, ladies and germs! The Arbiter is coming, and like any other KI character he's going to have different sets of colors and accessories. Figured it would be best to try and speculate what they may be, as well as discuss them when they come out!
Alright, let's get the obvious one out of the way
#Retro=Halo 2/3 Arby
[URL=http://s551.photobucket.com/user/Paedok/media/PDF2-6-2.jpg.html]
[/URL]
#Edit: CONFIRMED!
[URL=http://s921.photobucket.com/user/13MATTallica96/media/temporary_15.jpg.html]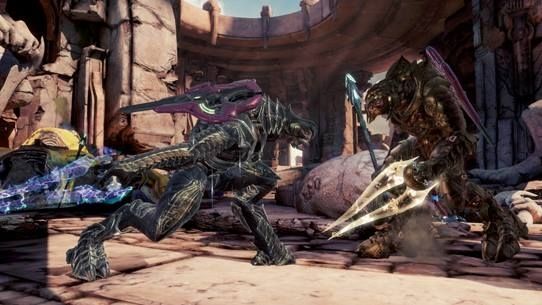 [/URL]
Need to have his classic, iconic battle armor in game in all its shiny, mildly dysfunctional steel goodness!
Now for the stuff that's up to speculation.
Colors:
My guess?
Color 1: The default warm gold in the screen shots/trailers
Color 2: A dark, cool steel to contrast it.
Color 3: Blued metal
Color 4: Rusty Red
Color 5: Black metal
Color 6: Green stained
Not sure if he gets 7-9 but…
Color 7: Shiny Platinum steel
Color 8: Turquoise Bronze
Color 9: White with a damaged jaw, as tribute to the ship commander from Halo 2/3
Could be wildly off on the colors but who knows?

As far as accessories, there's some demand for a standard set of elite armor. Could be a similar set in between Modern and Retro, where there's a more Halo 4/5 esque design for Modern and a Classic crowned elite accessory on the retro accessories list.
Another idea for accessories is to reference different factions from the Halo canon. Say, a UNSC set with more earth-like weapons and armor, a forerunner based armor set with runes and glowing architecture (maybe skulls), or even a Flood based set where we play a model infested with the alien parasite.
Well, not long till we get to see the goodies. Can't wait for the release and maybe a gameplay stream.
What do you guys think we'll get? And to those in the distant future, whatcha think?