So I had something unusual happen this morning…
I was playing online as Eagle, still getting the hang of him(L47), and I ran into this one Shago player. He pretty much curb-stomped me, and then afterwards looked like he was going for the whole drawn-out ultra, which I didn't really feel like sitting through, so I didn't. I hit Alt-F4, and moved on to something else. Shortly after that he sends me this series of messages: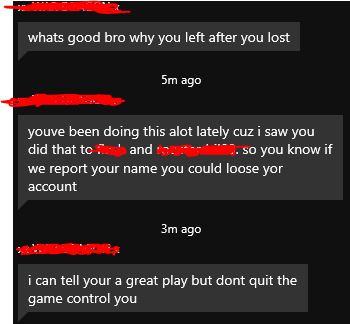 First off, I will admit I am not completely innocent on this, after about the 5th or so hit of his Ultra, I hit Alt-F4, though it's probably the first time in a couple of months. But to threaten someone with loss of their account over not sitting through them rubbing it in? Really??
Anyway, I was curious about this in regards to A: Can they actually do this to me? And B: What can I do (aside from not quitting, that's obvious) to keep this BS from happening?
I mean, losing your account may sound frivolous, but I have nearly 10 years worth of digital content tied to my account, so losing it…yeah…pretty much thousands of dollars worth of content just gone.